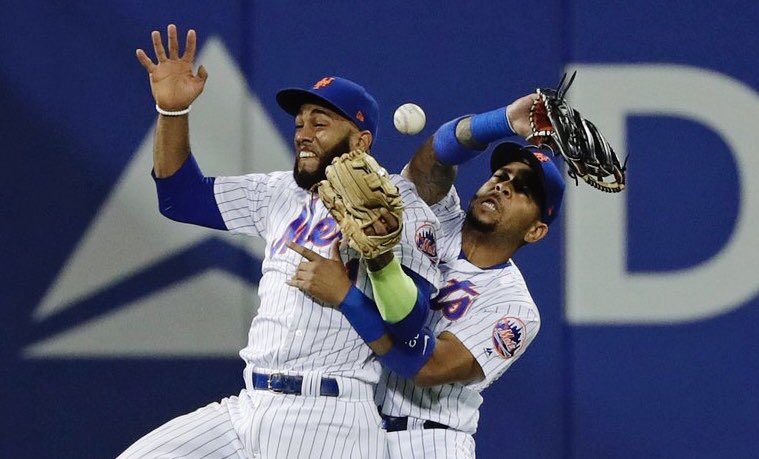 I'm at my wits' end with the Mets.  Lately I simply have not had the energy to sit down and commit some time to writing about this team.  It's exhausting because it's all bad all the time.  The positives are needles in the haystack, and to put stock in those few bright spots would be a futile attempt to look on the bright side.  In most seasons I'll watch probably 150 Mets games irregardless of their place in the standings, but this season has been different.  The games are unwatchable.  The product on the field is embarrassing.  My time and attention are better spent elsewhere.  Last night, the Mets lost 2-1 to the Giants.  I did not watch one single pitch, but I could not let the events of last night's L go unmentioned.
Zack Wheeler was outstanding, but, as is tradition with the New York Mets, his brilliance was squandered by putrid offense and pathetic defense.  A pop up to shallow left that should have retired the side in the 13th inning ended up in a collision, a drop, and the game-deciding run.  Defensive miscues are commonplace in Queens, but last night's was particularly frustrating.  Shallow left field, shortstop Amed Rosario back peddles onto the grass a clearly calls for the ball.  The left fielder, Dom Smith, who is not a left fielder, comes forward cluelessly and bumps into Amed Rosario.
Dom Smith is a first baseman.  He has been a major disappointment so far since first being called up the bigs, but he is a first baseman first and foremost.  We've watched him struggle, but the hype around him has been mostly attributed to his defense.  Yet he gets no playing time at first in the minors or with the Mets.  He clearly has no idea what he's doing in left, and if the Mets truly don't see him fit to be the first baseman, then they need to move on.  But trotting him out there in left field is doing nothing but hurting his value as well as the current team.
That defensive blunder last night is on Smith, no doubt about it.  But I actually feel bad for him.  It's important to note that I don't think he's a very good baseball player as a whole, but I refuse to be too hard on him for what unfolded in the 13th inning.  That's what happens when you stick someone in a new position.  The Mets are notorious for trying guys out at new positions where they're set up to fail (Daniel Murphy and Lucas Duda also saw pointless time in the outfield).  What's the point of playing Smith in left field especially when Peter Alonso is not being brought up to try out at 1B?  What's the point of any of this?  It's gotten to the low point where it's hard to tell if these young guys simply are not that good or if they're being put in situations to fail as a direct result of incompetent ownership.  Last night's debacle is a perfect example of what's wrong with this team.
——————————————
Recent Blogs:
——————————————