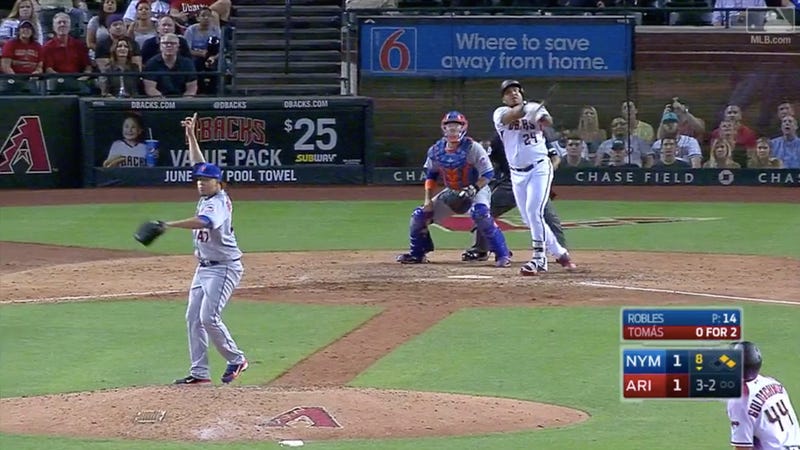 Better late that never I suppose.  And I'm not referring to my tardiness on the blog.  The Hansel Robles Mets era is finally over.  Hallelujah!  I don't think I remember any pitcher who was worse for the Mets that for some reason they pledged such dedicated allegiance too.  There have been a many a bad arms over the years especially out of the bullpen.  But for whatever reason, Hansel Robles was a gnat that would not go away.  There are better options out on any street corner, yet the Mets stood by Robles for far too long.  Numbers don't lie, and Hansel Robles might quite literally be the worst to ever suit up for the Mets.
I'll be the first to admit that I used to like Hansel Robles.  For most of 2015 and parts of 2016, he was a hard throwing guy with a fiery and boisterous presence on the mound.  Robles was cocky and unapologetic.  Even though he never had dominant or overpowering stuff, I was happy to have him on my team for a period of time.
His antics quickly grew tired as the utter hatred towards him ramped up.  Anyone who's watched Hansel Robles knows his signature move, pointing up signaling a pop up or playable fly ball.  The "point to the sky" was downright embarrassing when the ball goes 450 feet.  Hansel Robles quickly became ineffective, and that's putting it lightly. But he was perfect for the Mets as a quintessential, erratic hard thrower.  Robles would come in the game and either walk consecutive batters or serve up batting practice.  We're talking about a guy who's initials are literally HR.  Even Keith Hernandez hated him.
Boom roasted.  The finger point thing was not a one or two time event either.  Any time a ball was put in play, Hansel Robles pointed up to the sky, confident that he got the best of the batter, as the ball quickly soared through the sky and into the stands.  EVERY. SINGLE. TIME.  I actually think it became an internal joke within Hansel Robles's dumb brain.  We're talking about no doubters, surefire home runs off the bat, and this guy points up like it's a can of corn pop up to the short stop.  For sure not, dick.  Despite it being a long list, I can't remember any Mets pitcher I was less confident in.  If Robles was warming up, the game was over.  Didn't even have to watch it play out.
At the end of last season I said I may kill myself if Hansel Robles was on the 2018 Mets.  And I got my wish.  Hansel Robles was NOT on the Opening Day roster.  I gave the Mets credit for realizing there were better options than that bum.  Silly me.  I should have known he'd show his face and serve up meatballs for any man who stepped to the plate.  He was promoted and demoted a few times this season, and not one stint was the least bit encouraging.  Hansel Robles sucks.  He has sucked, he currently sucks, and he'll continue to suck.  Goodbye and good riddance.
——————————————
Recent Blogs:
——————————————