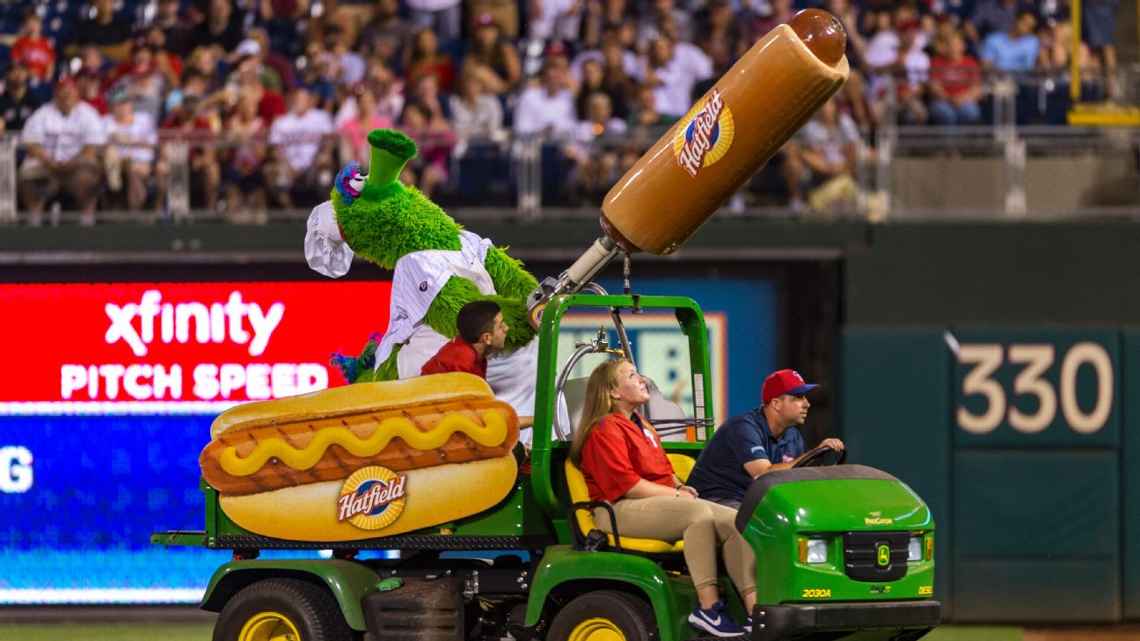 ESPN: The Phillie Phanatic has been launching hot dogs into the stands at Philadelphia Phillies games for years — first at Veterans Stadium and now at Citizens Bank Park — without any injuries. That changed Monday night. Using his customary launcher, the Phanatic sent a hot dog to fans behind home plate, where Kathy McVay was sitting. Battling a shoulder injury that will require surgery, McVay was unable to catch or deflect the hot dog, which was wrapped in duct tape so it wouldn't disintegrate upon launch. The hot dog struck McVay in the face, and she underwent a CT scan to make sure she didn't have a concussion, according to Philadelphia's WPVI. "It just came out of nowhere. And hard," McVay told WPVI. ….. "I have a small hematoma in my eye," McVay said. "And mostly, it's going to get worse before it gets better. It's going to go down the side of my face." …
——————————————
Recent Blogs:
——————————————
Quite honestly I've grown a little tired of bashing the Mets.  We're not even out of June, and I feel like I'm closing in on a breaking point.  I won't quit being critical of them, not yet at least, but most days I want to because there's really no point at the end of the day.  Over the years there have been endless headlines surrounding the Mets that make me question my fandom and my sanity.  The embarrassment that comes with bleeding orange and blue is unlike any other.  And they say misery loves company.  So any chance I get to make fun of another team/fanbase, I think I'm well within my rights to do exactly that.
The Mets are out here losing games, disrupting talent, wasting team-friendly contracts, and heading out on a suicide mission without a map or a plan.  But we haven't been attacking our fans with hot dogs.  You can fact check that one, baby.  The Mets haven't, knowingly, left anyone with a hematoma from flying meat, only agita and bleak sadness.  Hematomas!  Shame on the Phillies.  Poor Kathy McVay.  Kathy loves the sights and sounds that come with baseball.  The warm summer air.  The crack of the bat.  The fresh cut grass.  The ground pork in soggy bread coming at you at 300 mph.  Here she is trying to enjoy a nice time at the ball park, but her time was spoiled by an assault from the Phillie Phanatic.  Is there any place better than Philadelphia?
PS – I'd like a hot dog gun that I can use in close range.  This hot dog gun must allow for liberal spicy brown mustard application.  All sellers please get in touch.