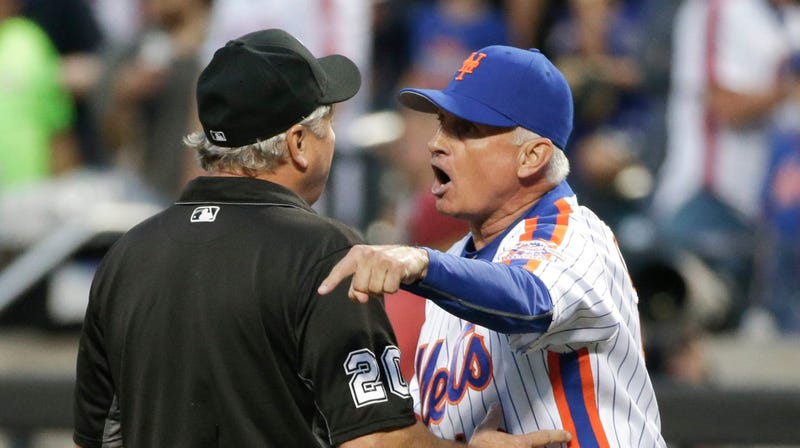 I hate overreactions.  I hate hyperboles.  With that said, this might be my favorite video of all time.  I have no clue how this is only catching fire now.  To offer context to anyone not in the know, this was the Mets' retaliation towards Chase Utley after that scumbag took out Ruben Tejada and broke his leg in the NLDS some 8 months prior.  Noah Syndergaard put a fastball behind Chase Utley and was ejected without warning.  Never seen that before.  A warning should have been given, especially considering the fact that he threw behind him as opposed to throwing at him.  Pitching behind a batter is so ridiculous, but it's also far less dangerous.  It's more of a message than a direct retaliation.
Terry Collins was well within his rights to defend his guy there.  And boy oh boy did he get his money's worth.  Some of the best moments in sports are made up from uncommon events (i.e. Brawls, ejections).  Watching a manager give the umpire the business ranks near the top of the list.  Umpires are pretty quick on the trigger to throw somebody out, but it's what ensues after that gets me going.  Personally, I love the classic "kick dirt on home plate" move.  It's timeless.  But with the addition of AUDIO nowadays, the possibilities are endless. I'd pay big bucks for audio of every single manager ejection.  Anyone who says they don't wanna hear the manager call the home plate umpire a cocksucker is a dirty liar.  F-bombs get the people going, always have, always will.
Most Mets fans were happy to see Terry Collins go after last season.  But seeing this kind of fire brought some good memories back. "YOU GOTTA GIVE US A SHOT!"  TC made endless boneheaded decisions as manager, but there's no denying he had his players' backs.  No exaggeration, this video will leaving a lasting impression in my mind in regards to Terry Collins's legacy as Mets skipper.  In this lost 2018 season, this clip managed to get me to grin ear to ear.
Maybe 15 minutes after this video surfaced on the Twitter, Mickey Callaway was ejected for the first time as Mets manager.  That's some real serendipity right there.  Mick must've heard rumblings in the dugout and knew he needed to make his mark.  Though he didn't lose his cool like Terry, I was still jacked to the tits watching him get tossed.  Finally we saw some life from Mickey Callaway.  The team stinks, the season is a wash, and the manager, evidently, does have a pulse.  It was only a matter of time before we saw him unleash his frustration.
——————————————
Recent Blogs:
——————————————