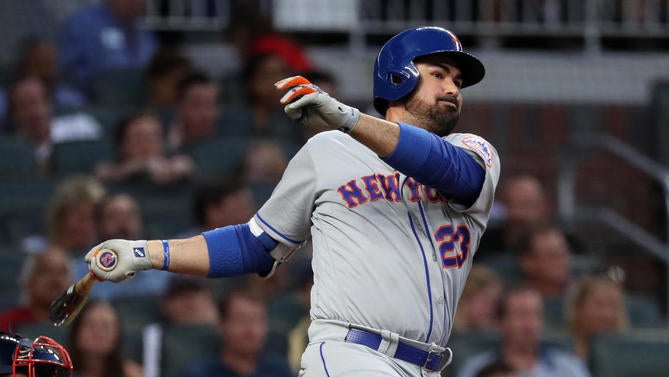 "Adrian Gonzalez" is an interesting way to spell Jose Reyes.  Oh wait…they're not cutting Jose Reyes.  Got it.  Alright then.  Well this move isn't all that surprising I guess.  Adrian Gonzalez was never brought in to be a long term solution.  If you recall, Dom Smith was hurt/out of shape/not talented enough to win the first base job.  Many questions have surrounded and remain surrounding Dom Smith, and so the Mets took a low-risk flier on an aging veteran who's best days are far in the rearview mirror.  I'll get to Dom Smith in a moment.
A-Gon looked competent in April and has been basically terrible over the last 5-6 weeks.  The first base position has been one of the bigger holes for the Mets because they don't have anyone that can play the position every day.  Adrian Gonzalez is 100 years old and also not very good.  Wilmer Flores is banged up again and, in my opinion, not an every day player.  Jay Bruce is not a first basement despite the endless pleading to stick him there.  That may end up happening, but my point is that the Mets don't have a first baseman.  Adrian Gonzalez's 6 HRs, 26 RBIs, .237 BA, .299 OBP, .373 SLG, and .672 OPS was not cutting it.  He'll be quickly forgotten as yet another old guy who the Mets got on the cheap who didn't pan out for them.
There was nothing exciting about Adrian Gonzalez.  But there's no justification left for making this move prior to cutting ties with Jose Reyes.  Gonzalez is more or less an automatic out at the plate, but Jose Reyes almost single handedly blew the game last night.  He forgot to step on second base and gave the Yankees 2 on with nobody out instead of a double play.  He's a joke and a waste of a roster spot who hurts the team regularly.  Surely not gonna sit here and cry about Adrian Gonzalez no longer being a Met, but it's insane that he's gone before Reyes.
Enter: Dom Smith.  The sample size we've seen from him albeit a small one was not overly encouraging.  I won't bore you with stats but his stint in the majors last year was disappointing to say the least.  We've heard about his issue with motivation (or lack there of), weight, etc., etc.  And I don't believe he's exactly been crushing the ball in the minors this season.  But nonetheless, here we go again with Dom Smith.  Let's hope he can put it all together.  I won't go off on a tangent, but the Mets really need him to develop into the player we've been promised for 5 years.  As for now and as for me, I'm excited to see him get more reps, but I'll hold back on any expectations until proven wrong.
——————————————
Recent Blogs:
——————————————