Just days after I was punched in the face with the news that Jay-Z turned down the opportunity to perform at Super Bowl LII, order has been restored.  All is right in the world.  Sources are saying it's just about a done deal, in fact it may be official I don't really know, that Justin Timberlake has earned the honor.  It's such an obvious choice, I can't believe I didn't think of it myself.  Oh wait, yes I did.  Read what I said last year, or don't.  But here's some of what I said about JT:
"The ultimate performer."
"Everyone loves Justin Timberlake."
"Nobody would be less of a controversy considering people are always complaining about the Halftime performer."
All spot on and all facts if I may say so myself.  In all seriousness, there's probably nobody as well rounded as Timberlake.  First of all, it's a rarity to see someone grow up a star and only get bigger from there.  NSYNC was the biggest boy band in the world, and that Justin Timberlake wasn't even a blip on the radar compared to modern day JT.  He's also got talent seeping through his pores.  How many people can sing, dance, and act like him?  Not to mention that he's hilarious, charismatic, and quite good looking.  Justin Timberlake has mass appeal that most celebrities couldn't dream of.  Plenty of stars are big players in their respective fields, but JT has done and continues to do it all.
I saw him perform live once at Yankee Stadium.  Blacked out.  Barely remember I thing.  Needless to say I'm delighted by this news.  A man of Justin Timberlake's stature, talent, quality, etc. does not need any help from me for literally anything.  With that said, I can't help myself, and I've put together what I believe to be the perfect set list.  He's built an arsenal of hits making this no easy task.  But it's my self-appointed job.  I'd be remiss to not mention how they should let him pull the clothes off another female on stage.
Holy Grail – Here's how I envision this.  The lights are off in the stadium.  You hear the piano intro, and the lyrics start to come in.  "You take the clothesssssss off my back…"  The blood starts rushing through your body, the girls get all giddy, I get all giddy, but it's still darkness.  A single spotlight shines down on my man JT sitting at the piano (he plays the piano btw) as he sings "And babyyyy…".  After the intro, the music cuts.  The stage lights up.  The crowd goes nuts.  It's showtime.
Suit & Tie – "I can't WAIT till I get you on the floor, good lookin!"  The first song, song needs to be upbeat and catchy.  Suit & Tie is the only choice.  Need I say more?  Suit & Tie, Justin.  Suit & Tie.
Take Back The Night – I don't think I'd even put this in my Top 10 for JT, but it fits the algorithm of a Super Bowl Halftime Show song.  It's fun and familiar.  He'll be smooth as hell dancing across the stage, and we'll love every second of it.  If one of these has to get cut/replaced, this is it.  But I think it fits the bill.  We'll see if JT agrees.
Rock Your Body – I'm trying to squeeze in a few extra songs even if just a few samples.  So I'd incorporate the beatboxing part of Rock Your Body so he can flash his skills and give the people what they want: another one of his hits.
My Love – Gimme that falsetto, baby!  One of JT's better videos with some vintage boy band dance moves.  There are so many older jams to choose from, but I don't see how he can leave this one off the table.  IF I WROTE YOU A SYMPHONYYYYYY!
SexyBack – This is Justin Timberlake's greatest piece of music and one of my favorite pieces of music in general.  He could go out there and perform this and only this, and it'd go down in the annals of Super Bowl shows as one of the greatest.  If he brings out Timbaland it becomes the greatest moment in the history of the world, probably.  Get your sexy on!
Mirrors – Originally I was never super high on Mirrors.  But when I heard it live (one of the few moments I vaguely recall), I turned.  There's something about this song that the masses love.  It's not a prototypical Halftime Show song because it's kind of slow, but if he does an a cappella chorus where the crowd sings along with lighter-like lights, forget it, game over.  I've seen it live.  It's special.
Can't Stop The Feeling – I don't like the song much.  When it was released I jumped in because it was new JT music.  I bought in on name alone, but it quickly grew old.  If it comes on the radio, I turn it off.  But it's one of his biggest hits to date, and he's gotta sing it.  Reluctantly, I can admit it's probably the perfect song to close out with.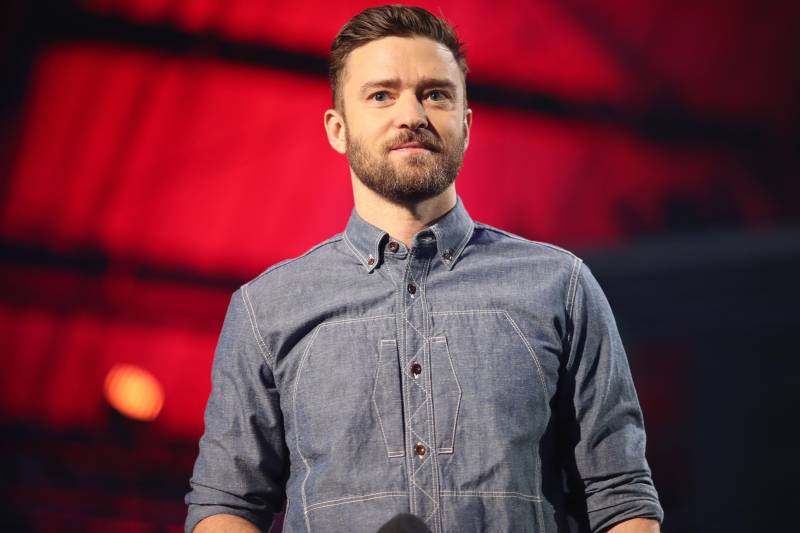 Just missed the cut:
Cry Me A River – what a song.  This could easily be added to the slate to substitute for Take Back The Night or maybe even My Love.
Summer Love – Obviously I wouldn't take the least bit of umbrage if this was a piece of the set come February 4th.  My brain is dumb enough that I'm convinced a song called Summer Love doesn't work in the middle of the winter.  I hope I'm wrong.  I hope JT performs for three hours.
Bye Bye Bye – a small part of me believes this may sneak into the Halftime Show somehow.  I don't know if NSYNC is on stage together.  I don't know if he'll sing this to play to his OG fans.  I hope it happens, but I don't see it.
Honorable mention:
Señorita – This is a Top 5 JT song in my book.  It's one of his classics and a classic music video too.  The whole production is so good that I participate in both sides of the duet, leaning slightly towards the ladies' side.  If you can't understand that, you've got a big dump in your pants.  If somehow we get Señorita at Super Bowl 52, I may cry.  IT FEELS LIKE SOMETHING'S HEATIN UP!
FUTURESEX/LOVESOUND – Honestly I really just wanted to mention another one of his hits.  It's not Super Bowl caliber, but it musn't be forgotten because it's an key component in Timberlake's music career.
Ayo Technology – We didn't deserve a 50 Cent + Justin Timberlake collab.  That's not a complaint, but this song was too good for us, too good for it's time.
——————————————
Recent Blogs:
——————————————