Monday: Game 1 of 4 against the Yankees.  This one was the first of two in the Bronx, and it went badly for the Mets.  Relinquishing a lead is always bad but particularly annoying when the Yankees are fighting for the playoffs and the Mets are dead.  Rafael Montero pitched well, but Terry Collins gave the game away when he entrusted Hansel Robles with a second inning of work.  Aaron Hicks greeted Robles in the 8th with a solo shot BOMB, despite Hansel doing his patent "point up to the sky signaling a pop up meanwhile the ball is traveling 385 ft.".  I've had enough of Terry Collins and Hansel Robles.  Amed Rosario and Dom Smith were both 1-4.
Tuesday – Let's start with the good news.  Noah Syndergaard was throwing off of a mound prior to the game, his first time doing so since April.  Obviously this season is dead and buried, but seeing this little clip reassured Mets fans that there's something to look forward to next season.
The Mets lost 5-4 despite a 9th inning comeback that fell short.  Jacob deGrom was not great but managed to gut out 7.1 innings with 5 earned runs.  Dom Smith hit his first career HR (oppo by the way) and was promptly taken out of the game by our dummy manager.  Amed Rosario took Aroldis Chapman deep in the 9th to make it a 1-run game, but that was where the comeback ended.  Smith and Rosario are the first pair of Mets 22 or younger to homer in the same game since……David Wright and Jose Reyes on 8/24/05.  Take that for what it's worth to you.
Wednesday – Back to Queens for a pair of home games vs. the Stankees.  Prior to the game, Wilmer Flores and Jose Reyes were both scratched with a sore left rib cage (strange), leaving the Mets with no options at 3B.  So Travis d'Arnaud filled in and was moved around the diamond roughly 25 times to avoid the baseball (which actually worked pretty well).  The Mets tied the game in the 5th and gave the lead back in the 6th.  The Mets tied the game in the 6th and gave the lead right back in the 7th.  Aaron Judge hit a HR of Gsellman that allegedly landed in the upper deck though I have my doubts that it landed at all.  Dom Smith and Amed Rosario were both held hitless.
Thursday – Another W for the Evil Empire and another depressing loss for the Mets who (don't be fooled) hardly put up a fight.  Steven Matz was fucking terrible and has become my most hated NYM behind Travis d'Arnaud.  Dum Dum Collins announced they may skip Matz's next start but are confident he's healthy.  He's probably not healthy.  And if he is, maybe he's simply not good.  His ERA is 6.08 now and has shown no signs of escaping this skid.  So until further notice, fuck Steven Matz.  This one was in the bag after the top of the 1st.  How bad have the Mets starters been this year out the gate?  Numbers don't lie:
Amed Rosario and Dom Smith were combined 0-8.  The Mets lost 7-5 but were down 7-0 early.  The only reason the game seemed close by looking at the score was because of Curtis Granderson's 9th inning Grand Slam, which would end up being Curtis's final at bat as a New York Met……..Not long after final pitch, Curtis Granderson was traded to the Los Angeles Dodgers (for a player to be named later which has been confirmed to be relief pitcher Jacob Rhame), which particularly sucks because as much as I'd love to see Grandy win his first ring at this late stage in his career, I cannot in good conscious root for that scumbag piece of shit Chase Utley, even if he's just a beneficiary to Curtis's success.
Curtis Granderson will go down as one of the best free agent signings in Mets history.  He was worth every penny of the $60M.  In under 4 full seasons, the Grandyman provided the Mets with 95 HRS, 247 RBIs, and a veteran leadership that will be missed more than anything.  For years we've heard the media say Curtis is such a stand up guy, and I don't think there's much denying that he's been a great New York Met.  Curtis hit THREE home runs in the 2015 World Series all while fighting through torn ligaments in his thumb.  Amidst all of the drama that surrounds this pitiful franchise, Granderson has never once been a distraction and was subsequently a breath of fresh air.  He never made excuses even when he couldn't get on base to save his life (every April and May especially this year).  He'll be missed.  Thanks, Curtis.
Friday – The losing continues, this time at the hand of the Marlins, making it five straight for the dead and buried Mets.  Chris Flexen was mediocre because that's what he is on a good day.  Amed Rosario had a couple of hits and another stolen base.  Dom Smith did not start but pinch hit late in the game; he must be exhausted from a grueling week of traveling between the Bronx and Queens so this day off was definitely justified.  At least Giancarlo Stanton didn't hit any baseballs to the moon.  That's kind of a moral victory.
Saturday – Rene Rivera was claimed off of waivers by the Chicago Cubs.  I've been lobbying for him to be the everyday catcher all season, and now we're forced to suffer through Travis d'Arnaud and Kevin Plawecki.  The Mets won 8-1.  Rafael Montero was actually good again, and the 7-run 6th inning was what lifted the Mets to a rare victory.  Amed Rosario was 1-4 and Dom Smith went yard again, his first HR at Citi Field.  How about this star studded lineup?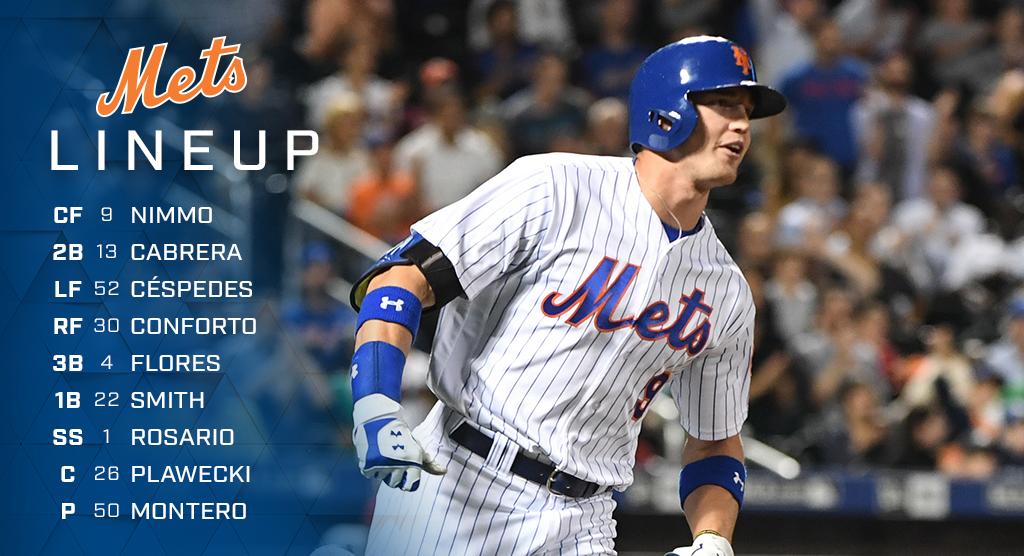 Sunday – Mets lost 6-4.  Jacob deGrom took the ball as the best day game pitcher in over 100 years.  That's a real stat.  Coming into today, his 1.73 ERA in 34 day games is the lowest in baseball since 1913.  Naturally, he lost today.  He was better than the stat line shows.  The 3-run HR he surrendered to Stanton was after two bad fielding plays that unraveled into insurance runs for Miami.  But his 8 strikeouts/0 walk combo is nothing to ignore.  deGrom is fucking awesome, and even when he doesn't have his best stuff, he usually keeps the Mets in the game.
Yoenis Cespedes hit a solo HR, his 16th on the year, and also doubled in a run, but that does not absolve him of being lazy and unmotivated.  He made 2 awful plays in the field, allowing a fly ball to drop right in front of his feet and also carelessly dropping a fly ball.  While it's nothing new, his laziness and apathy towards playing with 100% focus are magnified in a bad season.  I'm not saying it's easy to want to play for this team, and these games don't matter, but I've grown quite tired of Yoenis Cespedes's lackadaisical effort.  When he's good, he's really good.  But with the good comes the bad in the form of lazy outfielding and not running hard to first base.  Then again he played like an all star against the Yankees.  Classic Yo.
The lineup's are going to be pretty terrible from here on out, but that's the way it is when you stink and send your veterans packing.  Brandon Nimmo, Juan Lagares, Gavin Cecchini, and Kevin Plawecki are going to get a lot of playing time for the last 6 weeks.  We're gonna get to see what these guys are made of, and any questions surrounding them should be answered by the end of September.  A 1-6 week puts the Mets in 4th place (lol) at 54-68.
——————————————
Recent Blogs:
——————————————