Part 14:
Finally we've reach the All Star Break.  All of the idiots out there who were holding out on waving the white flag can stop trying to move the immovable object.  I've put up with the blind optimism because that (rare) narrative has been centric around the notion of "let's see where we're at at the break".  Well here we are, and the Mets still stink.  Let's recap the past week, shall we?  Luckily the Mets only played 5 games.  And after Sunday, the Mets have 4 days off to look forward to.  Or should I say the Mets fans have 4 days off to look forward to?
Monday – This was a classic Mets game.  An old fashioned pitcher's duel turned into the Mets coming from behind to tie it only to lose the game.  Steven Matz and Stephen Strasburg matched zeroes for 7 innings, and the Nationals got to the Mets bullpen with 2 runs in the 8th.  It was all but over at that point.  Curtis Granderson came up clutch in the top of the 9th to tie it with a pinch hit 2-run HR, but a leadoff walk from Paul Sewald in the bottom half obviously was what did the Mets in.  I have no stats to support this, but I bet the Mets bullpen has the highest number of leadoff walks in baseball.  Fuck the Nationals.
Tuesday – 11am baseball in our nation's capital.  Anyone who thought the Mets were going to roll out of bed and bounce back from a deflating loss the night before is an idiot.  The Nationals put a beating on the Mets by a final of 11-4.  Daniel Murphy continues to make the Mets pay with about 12 more hits and 30 more RBIs.  Seth Lugo got fucking rocked on the mound.  Just another day at the office for the lowly and lifeless Mets.
Wednesday – Rained out – fuck yeah!  Only one more series until the break has arrived.  Thank god.
Thursday – day off/travel day/great day
Friday – The most important occurrence of Friday was Bartolo Colon's signing…with the goddamn Minnesota Twins.  Sad!  Sandy Alderson claims they "aggressively pursued" Big Sexy and were "shocked" when he elected the Twins instead.  Not buying it.  Bart loves NY, and if the Mets wanted him, he'd be here.  But sadly he is not.  It would have been something minor to look forward to for the rest of the summer, but it is what it is.
As he so often does, Jacob deGrom provided the role of "stopper".  His numbers are among baseball's best when pitching after the team has lost 3+.  That's probably because he's one of baseball's best pitchers period.  Friday night he did not have his best stuff.  He surrendered 4 solo home runs in 7 batters.  He didn't have his best stuff, but he buckled down and fought through to give the Mets a chance to win.  deGrom managed to battle through 7 innings on the way to earn his 9th win.  Jay Bruce, my dude TJ Rivera, and the scorching Jose Reyes were the offensive sparks en route to a 6-5 victory in their first of 3 in St. Louis.
Credit to the Mets for playing without a shortstop and going with 2 third basemen instead.  Bold strategy that clearly paid off.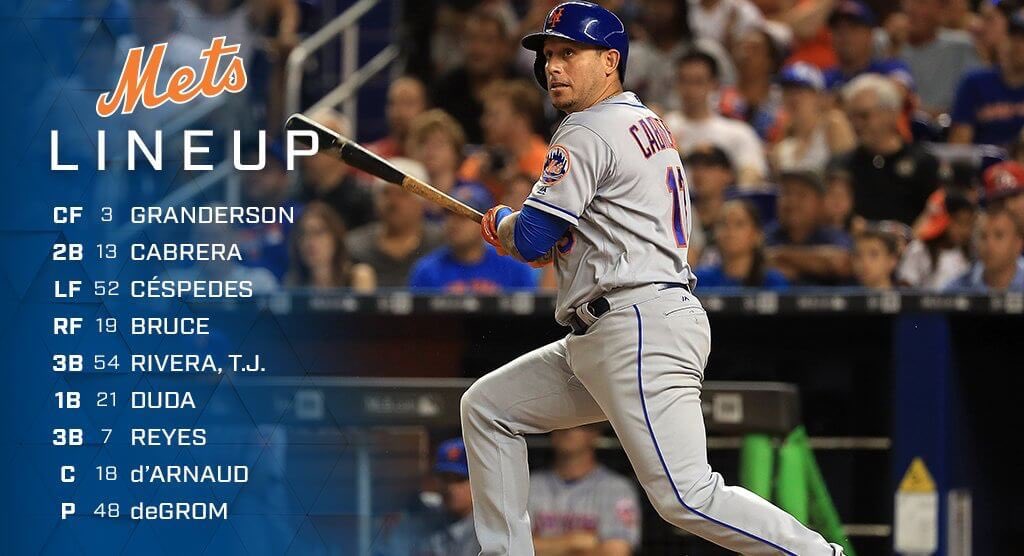 Saturday – The Mets were back in form as they fell 4-1 to Adam Wainwright and the Cards.  Zack Wheeler was good in 6 innings of labor (2 runs, 5 strikeouts), but the bats went quiet.  TJ Rivera had 3 of the 7 hits as he continues to hit well (as he has at every level of baseball).  The Mets need to play this guy every single day.  Yoenis Cespedes's cold streak continues as his average dropped to .270.  Travis d'Arnaud went hitless as he sits comfortably at a .223 batting average.
The news before the game was unexpected and not good.  Brandon Nimmo was being placed on the DL with a partially collapsed lung.  He's played pretty well in the last week, so this was very much out of the blue and obviously bad news.  Multiple people spoke to the media saying it wasn't as bad as it sounds.  Well it sounds pretty fucking bad.  Collapsed lung?  Pretty serious if you ask me.  I'd prefer if the Mets didn't expound upon anything medically moving forward.  Everything they say and do is wrong.
Sunday – The Steven Matz that we saw for his first 5 starts was not the Steven Matz we saw on Sunday.  Matz couldn't even escape the 5th innings after allowing 5 runs and digging the Mets a hole they were never going to climb out of.  With that said, 3 total team hits aren't gonna get the job done in any game.  Nobody in a Mets uniform came to play.  Paul DeJong, on the other hand, beat the Mets all weekend single handedly.  He was 9-12 in the series with 4 doubles and 4 HRs.  First rookie ever to record 7 XBH's in a 3-game slate.  Leave it to the Mets to be the victim of that.
———————
And so here we are at the "halfway" mark.  This 1-4 week drops them to 39-47.  The past week was perfectly indicative of what the first half has been for this dreadful team.  They're in fucking 4th place in the NL East, 12 games back from the Nationals.  The Mets are dead in the water, not that it's news by any means.  Against current NL playoff teams (Nationals, Brewers, Dodgers, DBacks, Rockies), the Mets are 5-21.  There are countless glaring signs of what makes a bad baseball team.  And that's unfortunately what the Mets are.  They're below .500 with nothing on the horizon to come save them.  They've been decimated by injuries alongside their own incompetence.
So where do they go from here?  Firstly, they need to keep everyone healthy.  Not only do injuries result in more losses, but because the Mets are sellers, they're gonna need to keep these guys on the field if they want to trade any pieces.  Which brings me to the trade deadline.  The Mets should be looking to move guys like Jay Bruce, Addison Reed, Jerry Blevins, and Curtis Granderson.  They're going to yield the biggest returns, specifically Bruce.  Jay Bruce is quietly having a monster season, and he's as good as gone after this year anyway.  Send him and the aforementioned to a contender, shop everyone else (Duda, Cabrera, Reyes, d'Arnaud even), and start replenishing the farm system.  Call up Amed Rosario and maybe Dom Smith, and let's start looking forward because this season is a wash.
The next update will be after the next week and a half of games.  I look forward to recapping more losses.
——————————————
Recent Blogs:
——————————————