Part 11:
This was a perilous week for Mets fans, and I will tell you why in simple terms.  The Mets came into the week on a 3-game win streak, a handful of important players are back from injury, and so many dumb fans are getting sucked back in.  These are dangerous waters, and the feeble minded will undoubtedly end up with egg on their face.  The week consisted of 7 games against the defending champion Cubs and soon-to-be NL East champion Nationals.  They were supposed to lose both series because the Mets are not a good team, but even if they went 7-0, my stance would not have changed.  This season is long over, and I cannot and will not be duped.  Do yourself a favor and don't be an idiot.  Same old song and dance.
Monday – The 2017 Cubs have taken a major step backwards from being World Champions.  I'm sure they'll find their footing and make a deep run to repeat, but the bats have been bad and the starting pitching has been bad.  In 2016, Kyle Hendricks's ERA was 2.13; this season it's 4.09.  In 2016, Jon Lester's ERA was 2.44; this season it's 4.13.  In 2016, Jake Arrieta's ERA was 3.10; this season it's 4.68.  Guys like Ben Zobrist and Kyle Schwarber have greatly underachieved.  And thankfully for the Mets, the 2017 Cubs showed up on Monday.  The World Champs are below .500.  They've lost NINE straight road games, and are in a downward spiral losing five of their last six.
The Cubs hit into four double plays in consecutive innings.  Their offense had only five hits amounting to one lone run.  But more than knocking the Cubs, the credit is deservedly directed towards Jacob deGrom who went the distance; first time this year a Mets starter threw a complete game.  Coming off of two horrific starts, this was a much needed outing for Jake.  The bats popped off with long balls from Jay Bruce and Asdrubal Cabrera (twice).  Other than a defensive mishap from Jose Reyes and Asdrubal Cabrera (shocker), there wasn't much to get on the Mets for on Monday.  Yoenis Cespedes took himself out of the game, and the report is that it was due to heel soreness, unrelated to the injuries that kept him out for over a month.  I have my doubts, and the Mets are downplaying it as per usual, but the word is that he's battled the heel injury since his days in Cuba.  But nevertheless, four straight wins, and six straight starts of only one run; four straight games of allowing only one total run.
Tuesday – Let's just say I picked a good night to make an 8:00 dinner reservation at a place with no TVs.  Joe Maddon tinkering with the Cubs lineup to put power hitters at the top and iffy bats in the heart of the lineup proved to be inconsequential.  Anthony Rizzo took Zack Wheeler deep to open up the game and, soon after, the floodgates opened wider than the head cheerleader's legs after prom.  Wheeler was hit and hit hard, for 8 runs and could not finish the 2nd inning.  He's been fantastic as of late, and Tuesday was simply a bad, bad night.  It was an early night for viewers and game goers; final score Cubs 14, Mets 3.  The Cubs bats were alive and Jon Lester was more or less untouchable all night.  The Mets weren't gonna beat Lester on Tuesday irregardless of how many runs the Cubs offense produced.  In terms of positive takeaways, Jerry Blevins and Addison Reed weren't used.  Also, Cespedes was 2-2 before coming out of the game, although his heel injury is troublesome to say the least.  'Twas a bad night in Flushing, no other way to put it.
Wednesday – Cespedes out of the lineup (legs), as is Conforto (back).
This was tweeted out prior to Wednesday's game.  The Mets fully acknowledged that Cespedes is not at 100%.  There's literally no reason to push the limit with the best player on the team.  Regular leg-maintenance days off?  What the fuck does that even mean?  How about you DL him until he's capable of playing at 100% everyday?  It's beyond frustrating to watch this team continue to mishandle basic situations like this.  The Mets announced between Tuesday's and Wednesday's game that Asdrubal Cabrera would be heading to the DL because he's an old, brittle man who can't field a ground ball.  Fans clamored for the call up of Amed Rosario, but the Mets elected TJ Rivera instead.  As much as I want to see Rosario in New York, I actually agree with the Mets sentiment here.  Don't bring him up for 10 days as a replacement; once he's here he should be here to stay.
The game itself?  It turned out to be the most impressive Mets victory of 2017 albeit a small sample size because they lose all the time.  But the Mets battled back from a 4-1 deficit to beat the Cubbies 9-4, thanks to a 5-run 8th inning boosted by Curtis Granderson's (go-ahead) 300th career HR.  Matt Harvey was awful as per usual, topping out at 89 MPH and serving up three more homers; the first two batters of the game went yard.  Nobody deserves to be bailed out less than Matt Harvey, but obviously I won't complain about a victory.  But I'll continue to complain about Matt Harvey and the injuries that continue to plague this roster…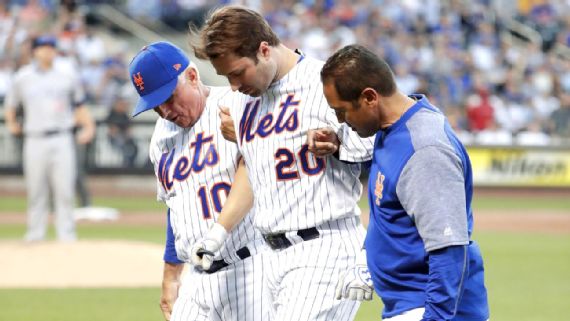 Thursday – When it rains it pours.  Neil Walker, partially torn hamstring (looked like he got shot running to first base), out indefinitely.  Matt Harvey, "stress injury to the scapula bone in the right shoulder", out indefinitely.  Noah Syndergaard, still 4+ weeks away from touching a baseball.  For anyone who bought back in on the season or still had hope up to this point, this surely brought them out of the clouds and crashing back down to earth.  Sandy Alderson spoke to the media with an annoying, smug look on his face, acting like everything is sunshine and daisies.  Wake up, man, your guys are dropping like flies.  Obviously, it wouldn't be Amed Rosario filling Walker's spot on the roster.  Again, I actually support the notion that he should't be brought into simply as a filler, but at what point is enough, enough?  There aren't enough infielders to go around.  Jose Reyes is not a major league talent let alone an everyday player.  The book of excuses is at its end.  There's no downside to making the call for Amed Rosario.
The first of four games against the 2017 NL East Champion Nationals went about as expected; the Mets lost and we were able to turn the game off in the 5th inning.  I'll keep these points brief for the sake of beating a dead horse.  Robert Gsellman stunk, Daniel Murphy continues to haunt the Mets, and Juan Lagares broke his thumb.  No big deal.  Lagares was finally starting to show real promise in the batter's box, and he promptly broke the same thumb that he tore ligaments on last season on a similar diving play.  You can't make this shit up, man.  The outfield consists of a limping Yoenis Cespedes, a bad-back Michael Conforto, and old ass Curtis Granderson, and a streaky Jay Bruce.  The infield is Wilmer Flores at third base who doesn't know how to play third base, Jose Reyes at shortstop who stinks out loud, TJ Rivera at second base who isn't exactly a firecracker, and Lucas Duda at first base who can't field a ground ball or throw across the diamond.  But the reinforcements are here in the form of Brandon Nimmo, Matt Reynolds, and Gavin Cecchini.  And, still, no indication that Amed Rosario will be here anytime soon.  The craziest part of this whole mess is that there are real people out there who have yet to wave the white flag on this season.  That's as sad as it gets.
Friday – Summer weekends are always highly anticipated.  This has never been more true than it is this summer because it's an excuse to not sit and suffer through 3 hours of Mets baseball.  They're uninspiring, and they're not good.  Steven Matz was up against Max Scherzer while also trying to match his stellar season debut from 5 days prior; he did not fare well.  But it wasn't so much about Matz's struggles as it was about Scherzer's ongoing dominance over the Mets.  Scherzer struck out 10 in 8 brilliant innings of work.  The Mets were never going to win this game against that freak.  I hate Max Scherzer and his nauseating eyeballs.
Saturday – Okay the Mets lost again on Saturday.  Final score was 7-4.  Stephen Strasburg got the W, Seth Lugo the L.  That was very much expected, but that's not what I want to highlight from this game.  First, the good aka Jay Bruce.  Jay Bruce has been the best Met in 2017, and as of late he's been especially powerful in the lineup.  In the last 10 home games, Bruce is hitting .432 with 5 HRs and 10 RBIs (as of Saturday).  On June 2, he was batting .242, and now his average is up to .278 (he went 0-4 Sunday but we won't mention that).  And now the bad: Rene Rivera.  This kills me because I've been a big fan of his, mainly because of my disdain for Travis d'Arnaud.  Rivera is the better catcher all around, but he has been god awful in recent time.  Since May 20, Rene Rivera has struck out in 21 of 43 at bats; that's almost impossible.
Another glimpse of positivity, strangely enough, has been Jose Reyes at the plate.  He's still batting below .200, but he's now six hits shy of tying Ed Kranepool as 2nd all time in Mets history.  Obviously the vast majority of his 1412 hits as a Met are from when he was good a decade ago, but it's an impressive feat nonetheless.  Reyes also has more hits in the month of June than Michael Conforto; that's a problem.  Conforto's been lost at the plate, and his average is in a downward spiral.  He was batting over .340 around Memorial Day, and now .289.  Not that it really matters because the team blows, but it would be nice to see him hit like he was in April and May.
Sunday – Shout out to the Mets for getting up for this one and avoiding the sweep.  After all that Jacob deGrom and his wife went through with their newborn, nobody deserved a win more on Father's Day than Jacob deGrom.  And he helped his own cause with an oppo boppo solo shot.  Apparently he used David Wright's bat for that at bat.  How fucking depressing is that?  David Wright can't get out of bed meanwhile the pitchers are hitting bombs with his bats.  Unreal, but good for Jacob.  Last time out he went the distance and almost matched that yesterday.  8 strong innings of 1 run (unearned) ball were the catalyst for the Mets victory.  4 hits in as many at bats for TJ Rivera, who should be playing every single day and I don't mean that because there are no other options.  And while we're on the number 4, props to Travis d'Arnaud for letting Trea Turner steal 4 bases yesterday.  Good work, man.
A special fuck you is in order for Daniel Murphy.  My rivalry with him is long documented, and I hate him now more than ever.  He's quickly rising to the top of the list of all time Mets killers.  In 29 games against the Mets since signing with the Nasties, Murphy has reached base in all 29 games.  He's batting .391 and has 8 HRs and 29 RBIs.  It seems that every time he's up to bat, he gets a hit.  The Mets simply can't get the guy out.  Can someone throw one up and in and back his homophobic (fact) ass off the plate one time?  Jesus Christ.
The Mets managed to go 3-4 against the Cubs and Nationals which was 2-3 wins more than I was expecting.  They're 31-37 and still a bad baseball team.  The good news?  7 games on the west coast this week and 7 excuses not to watch the games (in full).  I'll sleep just fine knowing that I'm gonna miss the Mets bullpen.  LOLZ.
Also posted at HotSaladWorld.com.
---
Recent Blogs:
---