Part 10:
Monday – off day, thank god
Tuesday – The Mets lost 10-8.  Ten fucking eight.  It's unacceptable to lose a game when scoring 8 runs with your "best" pitcher on the mound.  I don't care how good the Rangers bats are.  Jacob deGrom was terrible once again; in his last 2 starts he's thrown 4 innings in each game, allowing 7 runs and 8 runs.  His earned run average is no 4.75.  Some "ace". Something is clearly wrong with him either physically, mechanically, or mentally.  It's only a matter of time before he ends up on the disabled list for some obscure injury putting his season to bed.
Wednesday – The Mets somehow won this game 4-3.  It was a Zack Wheeler vs. Yu Darvish showdown.  Wheeler was tremendous once again allowing only one run in seven innings of dominant work.  I'm admittedly not sold on Wheeler, but he has been nothing short of impressive in 2017. He's been one of very few "pluses" during this disaster season.  I'm still not a Wheeler guy, but he's certainly trending upward.  Obviously, Wheeler's performance was only enough to earn him a no decision due to another bullpen collapse.  Jerry Blevins gave up the lead in the 8th, but the Mets were somehow able to pull out a win thanks to some awful fielding from the Rangers.  A pair of Jay Bruce dingers also helped the cause; the Mets had four hits in total.  Typically this is a game the Mets lose in Mets fashion, and it almost happened.
Thursday – off day, thank god
Friday – The first of four games against the second place (yes, second place) Atlanta Braves.  Matt Harvey was refreshingly effective.  He couldn't get past the 5th inning, but he also didn't allow a run.  It was only fitting that the bullpen quickly gave the lead to the Braves (shout out Paul Sewald again).  It was the perfect, ugly game against the Braves.  Defensive laziness ended up being the nail in the coffin when a routine base hit from Dansby Swanson turned into a double and, eventually, the winning run. I've been waiting for a reason to hate a guy named Dansby Swanson, and now I have it.  No doubt he'll be giving the Mets agita for the next decade plus.
Saturday – Saturday was a big day.  Not that it matters because the season has been over for well over a month (end of April), but it was an "important" double header for the Mets.  They won both games, but it goes deeper than that.  Yoenis Cespedes returned to action for the first time since April 27.  He admitted on Saturday that he's not at 100% which is fucking insane that he was cleared to play.  The season is already down the toilet, so what's the point of activating him if he can't run at full speed?  He didn't play in the second leg of the double header or on Sunday.  The medical staff is a joke.  Cespedes delivered the big hit, a 9th inning grand slam that solidified the win.  That was awesome to see obviously.  He's the best bat the Mets have had since Mike Piazza, and his presence in the lineup is pivotal to any stretch of winning baseball.  But it's only a matter of days before he re-aggravates his hammy or quad or both and heads back to the DL.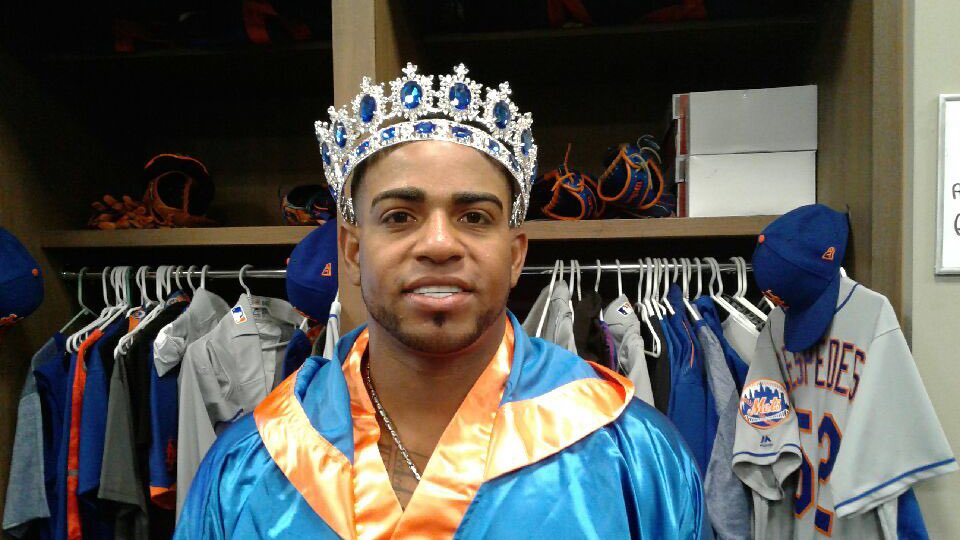 Asdrubal Cabrera: this guy stinks.  He has been so so so bad defensively. Last year he ate up every single ground ball without fail, and in 2017 he has been nothing short of a liability.  Two first inning errors in Saturday's first game, #9 and 10 on the year, could have been disastrous; Gsellman threw an extra 15+ pitches in the first inning which could have led to overusing the bullpen, leaving the arms depleted for the second game where the Mets starter is making his season debut.  Drubs has been fantastic for the Mets overall, but Father Time has crept up on him, and the Mets need a solution.  The answer is Amed Rosario.  It's time.  There's no downside.  Not only has he been dominating triple-A ball, but the Mets badly need a replacement for Asdrubal Cabrera and Jose Reyes.  Jose went on another 0-for-26 stretch, his average has dropped well below .200 again, and he offers nothing to the team other than great energy in the dugout when everyone else besides him is performing.  He should have been sent down to the minors instead of TJ Rivera, who continues to be disrespected by the Mets organization.
Robert Gsellman aka Bobby G was fantastic and has earned a spot in the rotation over his last 4 starts.  A 6-man rotation is fine with me because it means that guys like him are pitching well enough to start every 5th (now 6th) day.  The rotation is starting to take form with the return of Steven Matz and Seth Lugo.  Matz got the ball for Saturday's second game, and he was phenomenal.  7 innings of 1-run baseball was way  more than anyone expected in his first game back with the Mets.  Matz has always been very good when healthy, and although his health is always going to be a major concern, it's nice to see him back on the mound.  The Mets made quick work of the Braves in an 8-1 victory, aided by big offensive nights from Jay Bruce and Wilmer Flores, both of who I would look to move before the trade deadline.
Sunday – Seth Lugo's season debut went off without a hitch.  He too threw 7 innings of 1-run ball, with 6 strikeouts to go along with it.  I've yet to buy into the Seth Lugo hype.  Similar to Gsellman, he overachieved last year, leaving most fans excited for this year.  And while I do think Lugo can be a big part of the rotation, I'm cautious in my expectations because his sample size is small.  Nevertheless, this was a great start.  But I'd be remiss to omit the fact that he's pitching with a partially torn UCL; there are no doubts that it'll be a full tear in no time.  Overall in the span of 24 hours, 3 key pieces returned to action and were all great.
Two runs were enough to take down the pathetic Braves, propelling the Mets to their third straight win and winners of four out of their last five.  The offensive sparks were courtesy of Wilmer Flores and Juan Lagares.  Flores is batting .326 and should be playing every single day over guys like Jose Reyes and Asdrubal Cabrera.  I hate Flores's glove, but when he's hitting he's a force.  Juan Lagares's Achilles heel has always been his bat especially against RHP.  On May 21 he was batting .204, and as of today June 12, he's batting .268 and looks locked in at the plate.  He should be ahead of Granderson in outfield platoon options, plain and simple.  If anyone out there wants a veteran for a pennant race, I'd trade Curtis Granderson in a second and drive him to the airport.
4-2 this past week leaves the Mets at 28-33.  The next 11 games are against the World Champion Cubs, Washington Nasties, and LA Dodgers.  It would be classic Mets to hold serve, escape this two week stretch without much damage, and reel some foolish fans back in.  That won't be me if that happens.  They're probably gonna get worked against all of them most likely.  Can we get Amed Rosario to the majors please?  I haven't been lobbying for his promotion much, but the time is now.  It has to happen.
Also posted at HotSaladWorld.com.
---
Recent Blogs:
---