Mr. Met gave the middle finger to a fan last night.  He had his breaking point and flipped the bird.  Within minutes it was all over the internet, and Mets fans united in support of him and in condemnation of the entire existence of the Mets franchise.  Mr. Met was fed up with the way this season has unfolded up to this point.  And, evidently, he's had it with the fans as well.  Mets fans have been waiting for a long time, and the frustration has continued to build.  We all have our breaking points, and we may have seen one last night from Mr. Met.
The internet took the video like flies on shit.  While some may see the mascot's actions as a lapse of judgement after a loss, real fans know this was a long time coming.  This was a big old "fuck you" to the Wilpon Family and the sorry New York Mets organization.  The middle finger is far bigger than a reaction to one annoying fan. The mascot, the face of the franchise, spat in the face of the owners who care only about cashing their checks.  The manager and the players come to work day in and day out, rarely displaying any actions of apathy or resentment towards the organization.  But what Mr. Met did last night was a seminal moment in Mets history.  It'll be used on the internet for eternity.  It'll be on t-shirts.  It'll be everywhere, and rightfully so.  Mr. Met represents all fans today.
When the team sucks, the fans will let you hear it.  They'll make empty promises about protesting games and refusing to watch, but at the end of the day they always come back.  The players have their ups and downs in performance, but they show up everyday ready to work.  As for the mascot, Mr. Met himself, it's literally his job to put on a happy face and promote energy and positivity through the good times and the bad, when it's a sold out playoff game and when it's an empty ballpark on a Wednesday night in May.  When the beloved mascot, the literal figurehead of the franchise gives the middle finger to a fan, he's giving a middle finger to the owners.
Apparently they relieved the man inside the Mr. Met costume of his mascot duties.  The Mets are pathetic.  Then they put out this ridiculous, cookie cutter PR statement after the "incident".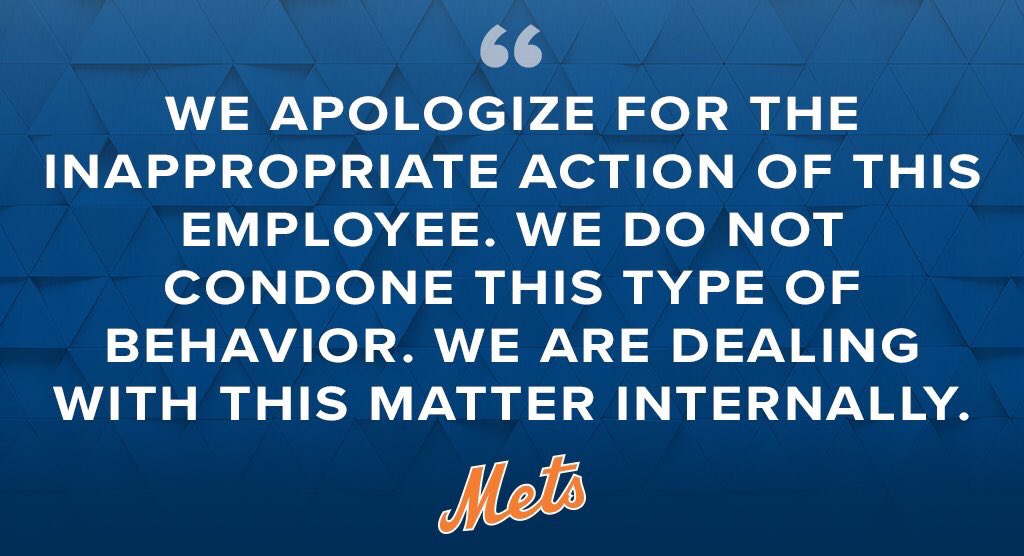 Despite the incompetence spewing down from the very top, I, for one, am so happy that this happened.  Absolutely elated.  Fuck the Wilpons.  Mr. Met forever.
---
Recent Blogs:
---