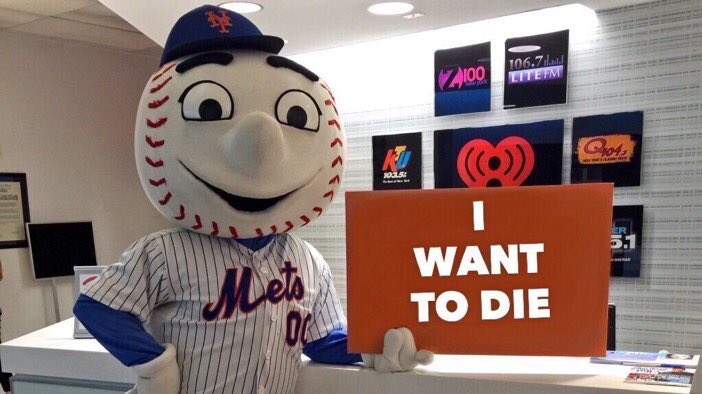 Part 7:
This is the first time I've ever been excited about the Muts making a west coast trip (they will now be known as the Muts).  This time around, I'm so happy that I can't watch the games in full.  I shouldn't be watching the games at all, but now I have an excuse not to watch.  Rather than fighting the urge to fall asleep only to be disappointed, give me a peaceful sleep and I'll check out how they lost in the morning. Enter: Monday.
Monday – Riding low off the heels of being swept in Milwaukee (capped off by a major collapse on Mama's Day), Zack Wheeler stepped up to bolster his case of being the best pitcher on the staff right now.  He's been far from perfect, but it's a fact that he's been the most effective over the last few weeks.  When it came time for me to call it a night, the Muts were tied 1-1 after 6 innings.  However they only had one hit, making it perfect timing to turn it off because I knew they had no chance.  It was already over.  The Muts made Zack Godley look like God himself.  Fast forward the morning, I wake up to see a 7-3 loss.  Hansel Robles was sent out there to serve up batting practice and allow 2 (basically 3) home runs.  Anyone who stayed up to watch that unfold deserves what they got.  5 straight losses.
Tuesday – Happy to announce that I don't have much to offer here as I had better things to do than stay up late into the night to witness another L.  Tommy Milone was bad, the bats went quiet (just five measly hits), and the Muts went down feebly in the 9th 1-2-3, despite Fernando Rodney's horrific 2017 numbers.  Not that expectations were high prior to a Tommy Milone vs. Zack Greinke matchup, but still.  Show up one time.  Classic Muts.  6 straight losses.
Pssst!  Hey, Lucas, you've been bad at baseball for far beyond the last week.
Wednesday – Guess who sucked?  Matt Harvey.  He managed to limit the damage, but the lead off man got on base in the first 4 innings, and that's not a winning recipe.  He was not overpowering or effective, but left the game with a lead.  That lead was then promptly relinquished courtesy of Robert Gsellman, who still hurts the Muts even from the bullpen.
With the game tied, the bullpen held their own until the 11th inning.  Rafael Montero, who miraculously continues to cash major league paychecks, faced one batter who appropriately went yard for the win.  It's beating a dead horse at this point, but how this guy has a job is beyond me.  There HAS TO be a better option somewhere, anywhere.  And if he's going to be on this roster, he should be the very last option.  Terry Collins's allegiance to him is out of control.  Fire that man.  Fire Terry Collins.  He has done nothing to help this team win.  And when he continues to stand by a guy like Rafael Montero, he's hurting the team.  It's time.  It's overdue.  Time to move on.  7 straight losses (the Muts led in 6 of them), with no end in sight.
Thursday – No game, thankfully.  Rosario/Smith not called up.  Montero not demoted/DFA'd.  Collins not fired.
Friday – Jacob deGrom was gutsy as hell.  The guy is unbelievable especially when he doesn't have his best stuff.  He fought through a blister in the 7th where he loaded the bases with nobody out, only to escape unscathed.  Collins refused to take him out despite obvious discomfort and struggles.  Luckily it worked out, but fuck Terry Collins.  With this game and win under his belt, Terry Collins tied Davey Johnson for longest tenured Mets manager.  Davey was 595-417, Collins just 498-514.
The offense was far from impressive, but Rene Rivera is staying hot with an 11-game hit streak, and Michael Conforto continues to show tremendous opposite field power.  Back in the win column.  Not only was the team desperate for a dub, but the bullpen needed an extra day off.  Blevins and Seawald pieced together the 8th, and Reed the 9th, but for a change it was nice not seeing 6 arms being used (mainly Montero).
Saturday – Did the Muts really just string together back to back wins?  Am I dreaming?  Truly shocking.  What's not shocking is Zack Wheeler walking 5 batters and failing to go beyond 5 innings due to a high pitch count.  I also believe that a 7-2 9th inning lead was almost squandered.  I very much believe that.  But a win is a win is a win.
Sunday – Sundays have been disastrous for the Muts.  This one was no exception.  It was over early with 5 runs in the first.  Tommy Milone was tagged for 8 runs in less than 2 innings, and the deficit was insurmountable.  This had to happen.  The Muts can't sweep anyone.  The Muts can't put anyone away or finish what they started.  The 2016 Muts maybe.  But the 2017 Muts cannot.
Tommy Milone is Tommy Milone and there's not much that can be done.  He was brought in as a desperate move to get another arm and before today he was fine.  But he is what he is.  Sadly, until Matz and Lugo are at full strength (if that ever happens), the Muts have no options outside of Milone, Gsellman, Montero, etc.  There are no other answers at this time.  It's an unfortunate situation, but it's reality.  Not only do we need Steven Matz back on the bump, but we need Grandpa Matz back at Citi.
We're closing in on one month of when I declared the Mets dead.  So none of these games actually matter.  None of these write ups actually matter.  But another losing week for a losing team in a losing season.  Perennial losers, that's what the Muts are.  2 wins, 4 losses.  Overall the Muts are 18-24, on pace to tally 93 losses.  And at this rate that number may be too low.  What a mess.
So many changes need to be made, and it starts with firing Terry Collins.  He's gotta go.  He has managed for Muts games than anyone else, and I think it's fair to say now that he's overstayed his welcome.
Also posted at HotSaladWorld.com.
---
Recent Blogs:
---