Part 4:
You can put a pretty little bow on the 2017 season because the Mets are cooked.  This thing is a wrap.  And that's especially sad to say because as this week went on, it seemed more and more like the Mets were gonna fight, scratch, and claw to be competitive all season.  The impressive wins they racked up in Washington have been rendered irrelevant because it has all gone to shit.  Last week at this time the Mets were losers of five straight and eight of nine.  Let's run through the past week day-by-day shall we?  Buckle up.
Monday
Off day, and thus a great day.
Tuesday
Game postponed due to rain.  You can't lose when you don't play, thus another great day.
Wednesday
There was talk that with Tuesday's rain out that Gsellman's spot in the rotation would get skipped and Syndergaard would pitch on this day as scheduled.  That ended up not happening, and this game was over in the top of the 1st inning.  The Braves bat around in the inning while RobertGsellman stunk up the joint.  It didn't matter that the Mets had 3 errors or that they couldn't score or that Julio Teheran dominated the Mets again. When you have five hits, you're not beating many teams.  That won't cut it in this league even against the Braves.
Thursday
Day game.  There's always a unique vibe when you get you get a mid-week day game, and that's because day games > night games.  Unfortunately, "uniqueness" for the Mets is unlike any other.  The news surfaces around 10am that Syndergaard is scratched and Matt Harvey will get the ball. Upper management continues to lie to fans as if we're stupid; when they made the decision to stick with Gsellman that was obviously because Thor was hurt but they didn't want to say anything.  The official word cited "bicep tendinitis" so naturally we all feared the worst.  Matt Harvey found out he was starting 3 hours before game time.  He walked three guys in the 2nd inning, and Reyes cost the Mets a run with a mental lapse in the field. Yoenis Cespedes pulled up limping to 2nd base and left the game.
Everything was falling apart at the seams.  It was clear that there's not one thing that the Mets do well, hapless and hopeless in virtually every facet of baseball.  They let the Braves come into town and have their way with the Mets, and it was fucking embarrassing.  Final score was 7-5 but it may as well have been 75-5.  Mets could have won the game, and the day would have been a complete loss still.  7-game skid, lost 10 of the last 11.  Oh and the next three are in Washington against the Nats who scored approximately 200 runs in 3 games out in Colorado.
Friday
Heading into the weekend, the Mets were already 6.5 games out of first, with 3 crucial games looming against the division leaders.  I expected another sweep again, facing a 10 game deficit at the end of APRIL, and heading towards yet another lost season.  Naturally, the beat Scherzer on the backs of 2 Travis d'Arnaud home runs and Josh Edgin getting Bryce Harper to GIDP to seal the deal.  Terry Collins was desperate and coaching for his job when he pulled Familia with bases juiced in the 9th to let Edgin face Harper.  It was a ballsy ballsy move, and somehow it worked out for the Mets.  And shout out to Jacob deGrom for double digit strikeouts for the third straight game.  Onto Saturday.
Saturday
Of course the Mets won because it only made sense for them to rally and beat Max Scherzer and Stephen Strasburg in back-to-back games.  Zach Wheeler was not sharp but manage to hold the Nasties to two runs (one earned).  Michael Conforto continues to stay hot with two dingers.  Daniel Murphy and Bryce Harper were a combined 0-7 with 4 strikeouts.  All in all, the Mets lived to see another day.  Until Sunday that is…
Sunday
Oh BOY what a day.  A possible sweep in Washington?  Thor on the bump? Let's roll!  I figured Noah Syndergaard would be out for a while but he refused to take an MRI this week because he felt fine.  He was promptly ROCKED, allowed 5 runs in the first, and left in the second in severe pain. Unbelievable.  The Nationals scored TWENTY THREE runs.  Anthony Rendon went 6 for 6 with TEN runs batted in.  The Mets were SUBJUGATED.
If you ask me, this thing is done.  They're not coming back from this and I won't allow my brain to trick me into thinking otherwise.  Syndergaard is out for a long time most likely.  Cespedes is OUT.  Duda is OUT.  Matz and Lugo and Wright are DEAD.  The team does nothing well.  The coaching staff and medical staff are allowing players to dictate their own injury severity.  Do you know how insane that is?  That's why in the NFL there's a mandatory concussion protocol because if it were up to the players they'd never come off the field.
There's no control and someone needs to be held accountable.  Someone needs to be fired. Ray Ramirez needs to be fired first and foremost.  Year after year the Mets have issues with weird injuries and misdiagnoses.  Yet they refuse to ever make any changes to the medical staff or training staff.  Ray Ramirez is worse at his job than anybody in the entire world is at their respective job.  It's a fucking disaster and I feel like I'm taking crazy pills when literally everyone is calling for this guy's head and he skates by unscathed.
The Mets currently sit and 10-14 and are in last place after a 2-3 week, but it doesn't really matter.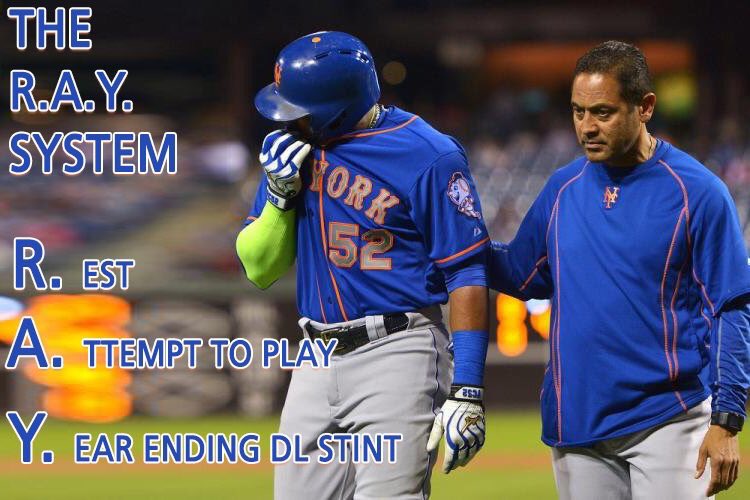 Monday Update:
Noah Syndergaard has a partial tear in his lat, out indefinitely, most likely forever.  See ya in 2018 so we can do this dance all over again.
---
Recent Blogs:
---