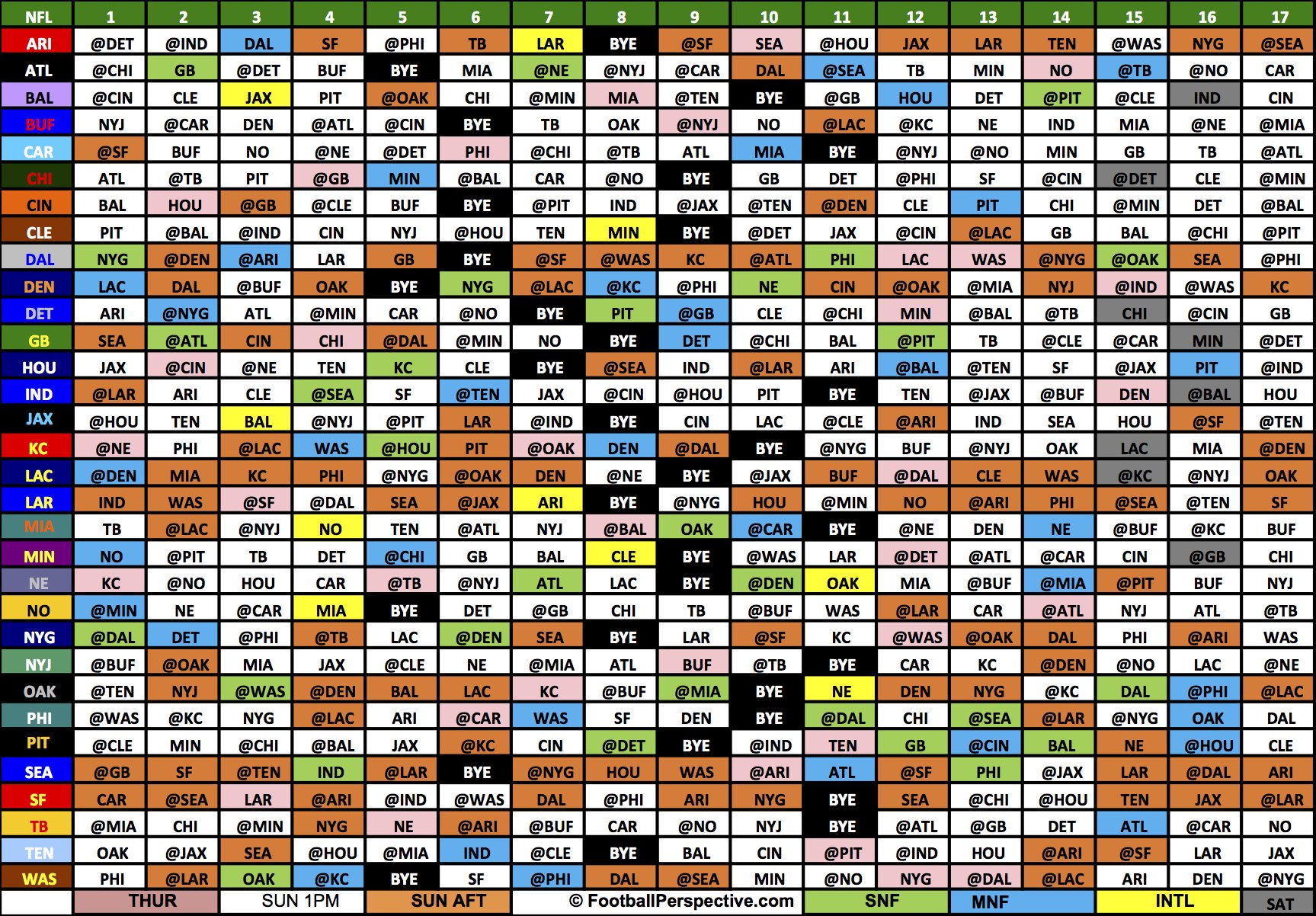 click here for enlarged schedule
The NFL released the full 2017 schedule on Thursday Night which has strangely become a very important day for fans.  It's the first crack we get at prematurely assigning wins and losses to our favorite teams, sealing their fate months before the season even starts.  If you've never looked at the schedule and said, "I don't see any reason they can't go 10-6 or better", then you're not a real fan.  Without fail all fans talk themselves into a winning season, it's very funny if you think about it.  I'll admit that at first glance I penciled the Jets in for 7 wins.  And then I woke up from that PIPE DREAM.  Classic.
I briefly glanced through the schedule to identify some stand out games, easy schedules, tough travel schedules, etc.  Because the Jets stink I frankly don't care all that much, so when I say "briefly glanced" I mean briefly glanced.  Obviously it's foolish to make any assumptions at this early stage so I've tried extracting some high level callouts and little nuggets that don't count any teams in or out for the most part.  I'm not in the business of predicting records at this early juncture (except for my measly Jets because it'll be an alarmingly low number of W's).  Not gonna hit every team because, like I said, I don't care all that much.  So if there's no note about any particular team, you can assume I didn't notice any red flags one way or the other on their schedule.
First things first.  The NFL has done away with Week 4 and Week 13 byes. Hallelujah.  A bye week is a huge break in the action for teams, often an opportunity to nurse a banged up roster back to health or regroup for the second half of the season.  Last season there were no byes in Week 12 but two teams had a week off in Week 13?  No rhyme or reason to it, but it's nice to see the NFL come to this realization.  Personally I think there should be a league-wide bye week in between Week 8 and 9.  It'll be one weekend without any football, but it levels the playing field in terms of when everyone gets their break.  A true halfway point.  But I suppose for now this is sufficient.
Cardinals – Schedule looks pretty easy at first glance.  Coming off a down year this seems to be a favorable schedule for them.  Despite a few tough games to close out the year, the Cards can do some damage if they can get back to form from years past.
Falcons – It wouldn't shock me if the Falcons never won another game again after their epic Super Bowl collapse.  I don't think anyone would fault them for taking the year off completely to (attempt to) heal the wounds. Their schedule isn't doing them any favors with a slew of high level opponents capped off by 4 straight divisional games to end the year.  Not ideal but the top teams will prevail through that misfortune.
Bills – Nothing like playing the Patriots twice in four weeks late in the season.
Bengals – Does Marvin Lewis still have a job?  Man he's gotta have some dirt on someone high up in the organization because nobody gets a free pass more than him.  Regardless, Cinci faces three straight road games followed by 4 out of 5 home games late in the season; an interesting tidbit to make note of.
Browns – Appointment television Week 5 in a big game against the Jets. No joke this game could loom large when we're looking at the 2018 Draft order.  If the Browns go winless and the Jets finish with 1 victory I'll kill myself.
Cowboys – Now that it's officially Dak's team, the expectations will be very high for America's Team to repeat what they accomplished last year. They'll have to survive five difficult post-Thanksgiving games including three NFC East games, a trip to Oakland, and a matchup against the ever dangerous Seahawks.
Broncos – Crazy travel schedule in Nov/Dec going coast to coast.  I've yet to find any studies done on this but I know it's not easy to go back and forth between coasts.  Denver has more pressing issues to worry about though such as finding a quarterback
Dolphins – Is this the year the Dolphins will finally break out?  They're perennial "contenders" year after year, and that lies in part with Ryan Tannehill who's seemingly always due to have a big year.  Miami will surely be tested down the stretch with 4 out of their last 6 against divisional foes (2 against the Pats and Bills each) plus troublesome games against the Broncos and Chiefs.  I wish the Dolphins no success on any level.
Vikings – Oddly enough Minnesota has been gifted with 6 of their first 8 at home.  Coupled with the return of Teddy Bridgewater (despite the loss of AP), they have a chance to really get off on the right foot.  Conversely, they'll face a road-heavy post bye schedule, including a Saturday Night Week 16 rivalry game at Lambeau.
Patriots – Looking like another 14+ win season for the reigning champs.  5 of their final 6 games are against inferior division opponents.  They have maybe one tough game once it gets cold out.  The rich get richer.
Giants – The G-Men open with two NFC East games before they get out of September, and then not again until Week 12.  They'll have home field advantage in two big time mid-season match ups with Seattle and Kansas City, but they'll travel to the West Coast to play in Oakland in between three division games.  Giants are a good squad and should fare well despite being battle tested.  Also, Thanksgiving Night in our nation's capital; hopefully it'll be a good one that can keep America awake post-tryptophan nap.
Jets – Finally someone at NFL HQ got a reality check and decided to stop putting the Jets in primetime slots.  Other than one guaranteed ugly Thursday night game against Buffalo, the pathetic Jets have earned thirteen 1:00 games.  This is a bad, bad football team that will undoubtedly fuck this whole thing up and win 6 games.  I'm hoping for a complete disaster season complete with zero wins.
Raiders –  How about this?  The soon-to-be Las Vegas Raiders have two different 3-straight home game stints in 2017.  The second set against the Pats, Broncos, and Giants kicks off a difficult second half schedule for the bad boys of the NFL.  I'm excited to see Marshawn Lynch in black and silver.
Eagles – Early season travel plus a brutal post-bye schedule will be a battle for Philly.  If they're in the hunt, their final three games are @ Giants, vs. Raiders, vs. Cowboys.  Those three teams will almost certainly be in the hunt, so if the Eagles can string together enough wins, it'll be fun to watch how it all goes down in late-December.
Steelers – Cake walk schedule.
Seahawks – Nothing too daunting and have a light start and finish to their season.  Weird team though so who knows.
Bucs – The 2017 Hard Knocks squad.  That'll lead to inflated expectations in addition to the world ready for the Bucs to finally eclipse that 8-8/9-7 wall, which most likely won't happen.  That's all completely separate from a tough 2017 schedule.
And just like that, the first glimpse into football season.  Summer is right around the corner, and it always flies by.  Not that I'm rushing to get there, but before we know it it'll be September and football will be on the mind. Here's to the Jets winning no games.
---
Recent Blogs:
---