The news of Bartolo Colon's Mets career coming to an end has me distraught.  I'm at a loss for words when I think about what Bart has meant to me and this team over the last few years.  We all knew this day would come eventually, but most (myself included) felt it would be when he decided to finally hang em up.  It certainly stings that he's gonna be trotting that big body out there every five days for the godforsaken Braves, but Bart gave more to the Mets than anyone could have reasonably expected.  Just this season alone, in a year where our studs were dropping like flies, it was the oldest man in baseball that was the most consistent.  On Opening Day I decided to keep a journal of Big Sexy's biggest and sexiest moments.  It's a shrine of Tolo, an ode to Big Sexy.  Enjoy this stroll down memory lane, and don't be afraid to laugh and cry uncontrollably and turn into a messy pile of emotions.  I love you, Bartolo.
Bartolo nominated Ricky Martin for Curtis Granderson's walk-up song.  What a guy.
Bart flashing the leather.
D-Day, man walks on the moon, Bartolo's 1st home run.  Three days etched in stone in the annals of history.  Up to this point, Colon's home run made for one of the best days of my life.  I cried, I cheered, I yelled, I did laps around my house.  What a moment.  No exaggeration, this was one of the most improbable things to ever happen.  Not in sports but in general.  This was some "Haley's Comet flying in front of a solar eclipse while the polar ice caps melted during a Cubs an Indians World Series parade" shit.
Bartolo Claus.
The promo for the inevitable Big Sexy 30 For 30 special.
Bart being bart.
LEGEND.
Real G's move in silence like lasagna.
43 years old and voted into the All-Star Game.
Do me, Bart.
You can't ask for a better teammate.  Leave it to Colon to pretend like he's helping meanwhile just making sure d'Arnaud doesn't have any infertility issues.  He's the best.
Sexy time at the Olympics.
A historic baseball moment, maybe more ridiculous than the home run.  If you can't throw three strikes to Colon, then you can't hold that current job.  Majestic strut to first too.
Now a collector's item.  What a tshirt.  Stick that thing in a glass case.
The G.O.A.T.
Natural speed and one helluva glove to boot.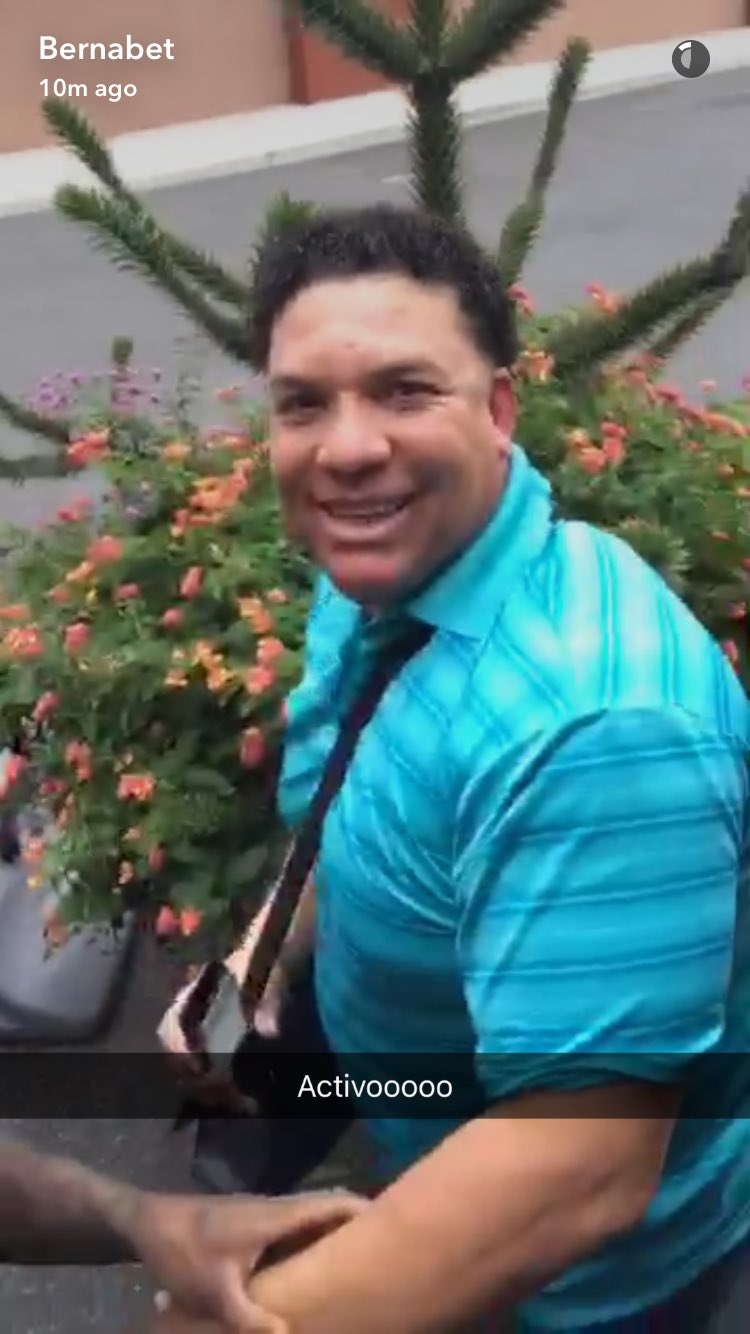 This picture was taken right after the Mets clinched the Wildcard in Philadelphia.  This is my favorite Bartolo Colon: polo shirt, one strap bag across the body, post-shower curly hair, happy as a clam.  One of the best snap shots out there of Big Sexy.  I wanna squeeze him.
It still all feels like a nightmare that I'm waiting to wake up from.  But the reality is that the Braves are now sexy and we are not.  This coup de grâce was the dagger into my spine.  What bothers me most, other than that I despise the Atlanta Braves, is that he didn't get an overwhelming offer that the Mets couldn't match.  At this age, $12.5M is a lot of money, no doubt, but try naming a more consistent and durable arm for the Mets over the past two seasons.  The slew of injuries goes to show you that you truly can never have enough pitching.  The recent fragility of our rotation leaves fans apprehensive about the future, while just a few years ago we were all anxiously waiting for the young guns to get here.  They're here, for the most part, and have struggled to stay healthy.  Bottom line is the Mets could have and should have given Bart a similar offer.  We say goodbye to the happy, go-lucky veteran presence that all other teams would kill for.  There is only one Big Sexy.  Never before have we seen a unicorn like him, and never again will we.  His at-bats were MUST WATCH.  He was either standing in the box with zero intention of swinging or swinging so hard (for Bart) that his helmet fell off.  And on the off chance that he got a hold of one, it was truly something special.
I'd be remiss if I didn't mention the Bartolo Colon Baseball Academy where he makes the players wear Bartolo shirts.  And who can forget about his second family?  There's no more Bartolo Colon move than having a secret family on the side.  You can't make this stuff up.  The career for Big Sexy has been a long and illustrious one.  It would not surprise me if he lived to be 200 and continued to pitch at a high level.  He'll get goofier and his cut fast ball will become even more deadly.  He'll induce more and more ground balls, and his general physique will continue to defy the realms of normalcy.  It makes no rational sense how he looks and plays the way he does now compared to when he was a rookie all those years and ONE HUNDRED POUNDS ago:
---
Recent Blogs:
McDonald's Is Testing A Sriracha Big Mac
My Application For Twitter Verification Has Been Deemed Futile
Objectively Grading Jaden Smith's Art Project
Suzy Gets Combo'd By Little Bro And Can't Hold Back The Profanity
Shia LaBeouf Joins 'Sway In The Morning' And Drops A Fire Flames Freestyle
---
 .
.
.