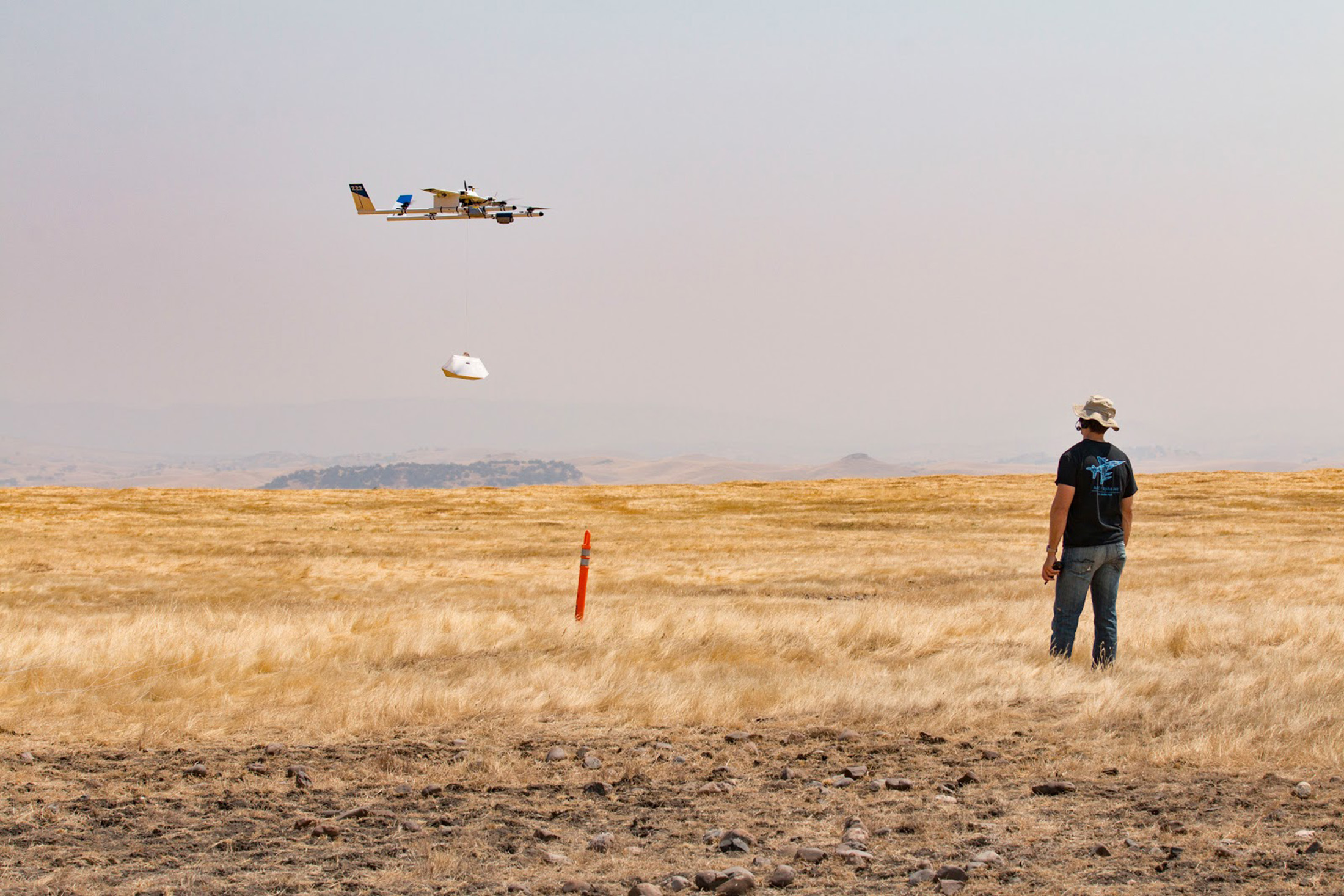 Bloomberg: In what's sure to be a college student's dream come true, drones will soon be delivering burritos on the campus of Virginia Tech. The experimental service, to begin this month and last just a few weeks, is a test by Project Wing, a unit of Google's parent company Alphabet Inc. Chipotle Mexican Grill Inc. and the Blacksburg, Virginia, university have agreed to participate. The Federal Aviation Administration approved the venture, the most extensive test yet in the U.S. of what many companies — including Amazon.com Inc. and Wal-Mart Stores Inc. — hope will eventually become routine drone deliveries of products. Amazon has begun a round of trials at a location in the U.K. …
Project Wing will use self-guided hybrids that can fly like a plane or hover like a helicopter. They will make deliveries from a Chipotle food truck to assess the accuracy of navigation systems and how people respond. The devices will hover overhead and lower the Chipotle edibles with a winch. Part of the experiment will be to see how well the packaging protects the chow and keeps it warm. Food was selected as the demonstration cargo because it's a challenge. The company is already at work on a more sophisticated second version of the aircraft that won't be used in the tests. …
The burrito-bearing aircraft will be flown by automation, but human pilots will be standing by to take control if necessary to comply with FAA rules, he said. Because regulations also don't allow drones to fly over people, participants will be shielded, according to the company. …
---
Recent Blogs:
If You're Not In Your Seat By The End Of The 1st Quarter It's No Longer Your Seat
The Jig Is Up For All Who Snapchat The Final Countdown Leading Up To NFL Red Zone Kickoff
I Had An Awkward Encounter With A Potentially Blind Man On The Subway Yesterday
Mickey Gall Is Fighting CM Punk This Saturday
LSU's Josh Boutte Suspended One Game After An All-Time Scumbag Cheap Shot
---
I gotta be honest.  I don't totally understand the whole "drone" thing.  It's pretty intimidating, and I can't process the idea that one day drones will be flying around dropping packages off at every doorstep.  That's what's happening right?  I know this is the very early stages but eventually it's gonna be drones zipping all over the place.  I don't know.  It sounds dangerous, but I'll trust Chipotle with my life.  They've done right by me for years, so it's only fair to stand next to them on the battlefield.  Personally I think delivery drivers would do the job just fine, but if Steve Ells and company feel that drones are the way to go, then I'm in.
Drones are super complicated, and Chipotle is so simplistic in just about everything.  They have wooden walls with metal sheeting and basic lighting all for the sake of cutting unnecessary costs to purchase better ingredients.  The menu selection is limited.  Everything Chipotle does is rather basic so that they can focus on putting out the best product possible.  Drones don't seem to be their cup of tea, but as technology advances, so do businesses.  The burrito is timeless and will be around until the end of time.  And I suppose if a drone is going to help me fulfill my cravings, then it's all positive.  I'm not in love with the idea of NASA and the Federal Aviation Administration meddling my lunch, not at all actually.  I'm also not a big proponent of being "shielded" while a hovering airplane drops down my lunch from the sky.  But I'll go to bat for Chipotle any day of the week so count me in.
Am I jealous of Virginia Tech students?  100% absolutely yes.  But I bet they don't have Jimmy John's.  There's something special about a guy in full biking gear delivering a sandwich in 6 minutes across campus at 2am in 25 degree weather.  Drones are too fancy when it comes to college and food.  We all need our own justification process.