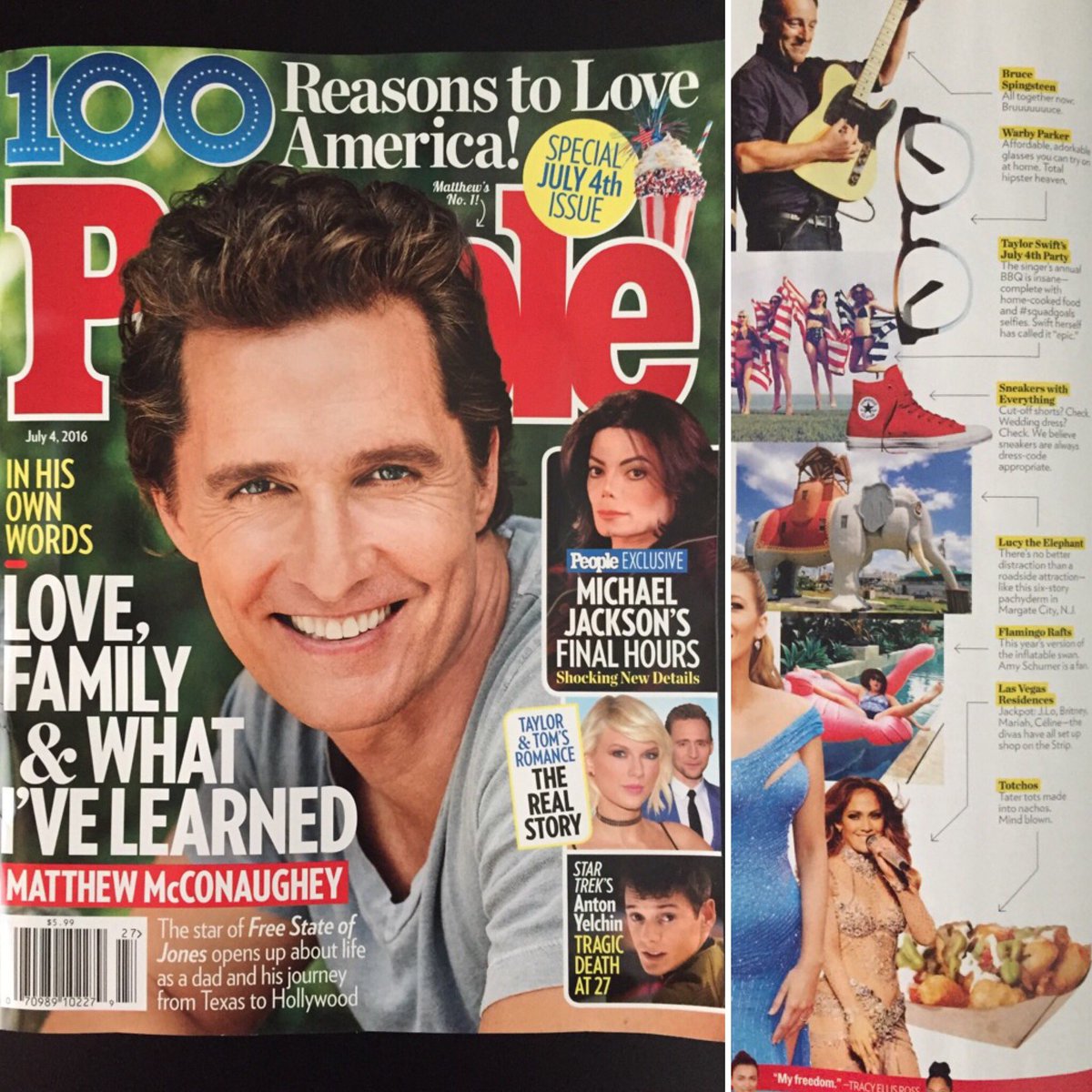 People Magazine's 100 Reasons To Love America:
First responders
Amazon Prime
Trader Joe's
Etsy
Transgender Orange Is the New Black Star Laverne Cox and Our Commitment to Equality
Chris Pratt's Instagram
Beyoncé's Formation Tour
Shondaland
The Silicon Valley
"I love that we are a multicultural country – I am exposed to so many different cultures and people." –Amandla Stenberg
Alamo Drafthouse Cinemas
The Mister Softee Jingle
The Octopus from Finding Dory
Snow Leopard Cubs at Chicago's Brookfield Zoo
Drew Barrymore's Flower Beauty
Kenny Chesney's Stadium Shows
The French Quarter, New Orleans
Jon Stewart's Farm Sanctuary
Biscuits
State Fairs
Seattle's Pike Place Market
Frappuccinos
Writer Ta-Nehisi Coates
"The public library system." –Allison Williams
Frozen
Zac Efron's Torso
Fixer Upper Stars Chip & Joanna Gaines
Tom Hanks as Captain Sully
24-Hour Diners
Comedian Samantha Bee
Red Solo Cups
Chef Ina Garten
Director J.J. Abrams
Budweiser's 'America' Cans
Steve Harvey
"So much culture, specifically in music. It's deep rooted, and it's a beautiful thing." –Nick Jonas
Blue Jeans
Betty White
Shake Shack
Ralph Lauren
Pickup Trucks
"Grand Central Station." –Laura Linney
Kendrick Lamar
Dolly Parton
Krispy Kreme's 'Hot Now' Sign
The Dixie Chicks
Chewbacca Lady
Gwen Stefani & Blake Shelton's PDAs
Carrie Underwood's Legs
Ballerina Misty Copeland
"Hamburgers, hot dogs and margaritas. My husband's a chef, so I consume those on a regular basis." –Shiri Appleby
Sesame Street Co-creator Joan Ganz Cooney & Her Philanthropist Husband Peter Peterson
Justin Timberlake's "Can't Stop the Feeling"
Detroit's Shinola Line of Products
U.S. Gymnast Simone Biles
Blake Lively's Maternity Style
Totchos (Tater Tots + Nachos)
Las Vegas Residencies
Flamingo Rafts
"My freedom." –Tracee Ellis Ross
Lucy the Elephant
Wearing Sneakers with Everything
Taylor Swift's July 4th Party
Eyeglasses Company Warby Parker
"I love the people. I'm from Russia, but I feel like I am so welcome here." –Irina Shayk
Bruce Springsteen
Oprah Winfrey and the Power of Reinvention
Barbecue Joints: 17th Street Barbecue (Murphysboro, Illinois); Joe's Kansas City Bar-B-Que (Kansas City, Missouri); Franklin Barbecue (Austin, Texas); Big Bob Gibson Bar-B-Q (Decatur, Alabama)
Oscar Night Fashion
"When I did the White House Correspondents' Dinner, I got to say things to the President that in most countries, I'd never be able to." –Joel McHale
The Little League World Series
Anderson Cooper
The Return of Bridget Jones
Mall of America
Sweet Tea
"Optimism." –Michael Kors
Marfa, Texas
Broad City and the Power of Friendship
The High Line in New York City
Chrissy Teigen's Twitter
"The diversity." –Ashley Graham
Rides on Demand
American Ninja Warrior
Honey Nut M&Ms
The Stylish Dogs of Instagram
Drybar
Superheroes
Visiting Kids in the Hospital
"They give you second chances." –Naomi Campbell
Porch Swings
Jessica Alba and the Entrepreneurial Spirit
Matthew McConaughey
The Grand Canyon
Lobster rolls and beyond
LeBron James
Route 66
Lin-Manuel Miranda & The Hamilton Cast
Girl Scout Cookies
The grand ol opry
Farmers markets
Our resilience
---
Obviously this list stinks.  It's trash.  I swear as soon as you get a job at any accredited publication, you get to make lists of any kind and nobody cares because you're bringing in traffic to the site.  Have some pride in your work one time.  Lists are created for the simplest of minds, so if you're going to make a list, at least put some effort and produce a quality collection.  I tried making a list of 100 things I love about America, but it's a near impossible task.  There's too many great aspects of this wonderful country.  I could disclose some of my list, but I feel more at home criticizing somebody else's garbage list.
Shondaland – never heard of it.  Can't crack the top 100 if everyone doesn't know about it.  That's rule number one.
Alamo Drafthouse Cinemas – See: Shondaland
The Mister Softee Jingle – I'm with it.  I assume it's The Entertainer because that's the only ice cream man song that matters.  I've been on a big ice cream truck kick lately.  It's as vital to the recipe for a good summer as anything else.
The Octopus from Finding Dory – This is exactly why this list is shit as is the author who created it.  Sticking a (what I believe is a) secondary character in a sequel that came out two weeks ago on a list of Top 100 Reasons to Love America is such a try hard move.  I haven't seen the movie yet but I'd be surprised if this Octopus is anything more than a funny cartoon character that I'll forget about completely 48 hours after seeing the movie.  I don't want to belabor this too bad, but I can go in on this one all day.  Moving right along.
Biscuits – yes
State Fairs – awesome if you're poor and/or have never had a good time before
The Public Library System – no
Frozen – good movie
Zac Efron's torso – well deserved spot on this list.  Helluva body on that guy
24-Hour Diners – are so dope.  Seriously there's not much better than a late late night diner move.
Chef Ina Garten – the GOAT.  I love you, Ina.  If I could trade my mom for her I'd do it and drive my mom to the airport.  And she'd be okay with it.  That's how great Ina is.
Ralph Lauren – heard that
Hamburgers, Hot Dogs, and Margaritas – technically those are three things but well deserving of a spot on the list
Sesame Street Co-creator Joan Ganz Cooney & Her Philanthropist Husband Peter Peterson – "Philanthropist Husband Peter Peterson"?  What an absurd sequence of words.  She probably introduces him like that. "Hi this is my philanthropist husband, Peter."  Well what kind of philanthropic work do you do, Peter?  And also, Peter Peterson??  That name can't be real.
Taylor Swift's July 4th Party – click bait 101
"When I did the White House Correspondents' Dinner, I got to say things to the President that in most countries, I'd never be able to." – Joel McHale  –  I don't think Joel provided an answer but rather elected to tell a story.  Fair enough.  Kind of a wasted answer, but I respect it.
Anderson Cooper – the silver fox!  His hair is so perfect it makes me want to be gay
Sweet Tea – That's what they call Iced Tea in the South right?  Iced tea rocks
Marfa, Texas – Never heard of it, may have to get out there now
Rides on Demand – See: Alamo Drafthouse Cinemas
Honey Nut M&M's – Is this what's hot in the streets right now?  I sure hope not.  I'll take the regular and peanut M&M's, thanks.
Drybar – I have to assume this is not referring to a dry bar or a bar without booze because that would be the dumbest answer for any question ever
Porch Swings – I think I like the idea of porch swings but not actually using them.  I'm not that tall so when my feet are off the ground I'm at a disadvantage.
Matthew McConaughey – very fair point
And there you have it.  These are only the select few that jumped out at me at first glance.  It's a bad list, no doubt about it.  If there's one thing to take away, I leave you with this:
If you're making a list, make a good one.  It's not exactly a profound theory, but it's important to keep in mind.