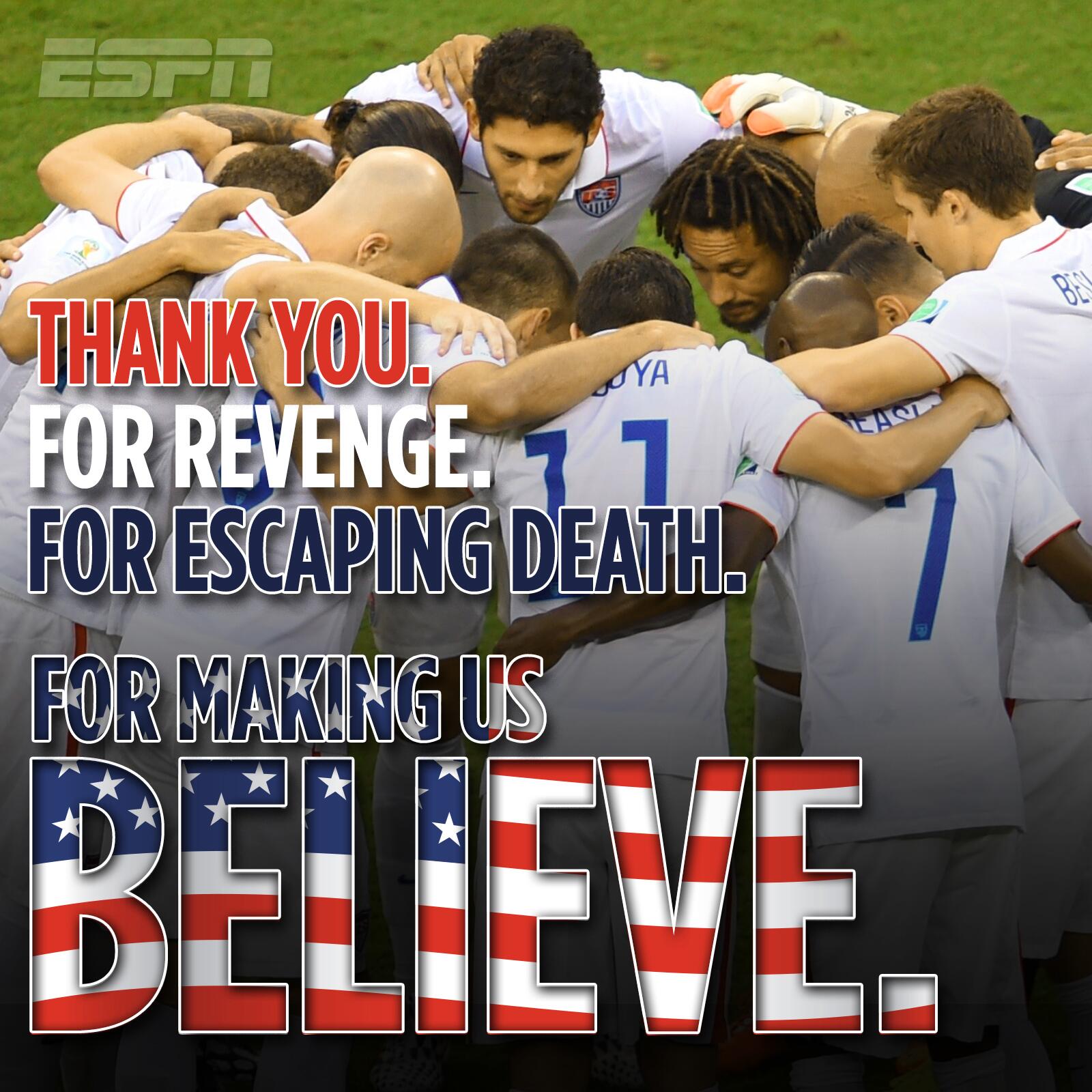 Ahh the old swift kick in the balls, classic. It's a tough pill to swallow, it really is. The past 2+ weeks have produced some incredible moments and everlasting memories from the USMNT. Each game created more excitement than the next. And even though our goal was denied, figuratively and WAY too often literally, there is a lot of good to take out of this journey. On the other hand, there are some guys that were just a disappointment or even a hindrance to this team at times.
GOOD: Tim Howard
Let's start with the obvious. This guy put on the greatest goalkeeping performance in World Cup history. He was the reason we were in this game today and he is the reason we have a chance to win every single time the Stars and Stripes squad up. Tim is the enforcer that every great team needs, and he most certainly did not disappoint. Hats off to you, Timmy. It's a shame our boys couldn't help him out a little more. I mean the guy has Tourette's, how about a little goal support?
BAD: Michael Bradley
For me the biggest disappointment of anyone. The commander of the team, center midfielder, just didn't show up to Brazil. He had a few shining moments, mainly his assist today against Belgium, but for the most part he appeared indecisive, without confidence, and looked downright lost on the field. We needed him to be the player that he REALLY is, smart, poised, and aware. He gave the ball up too many times and failed to control the middle third of the field, an area that proved to be a major weakness of this team.
GOOD: Fabian Johnson
Just outstanding. He was big, strong, fast, aggressive, and he did what needed to be done. Overall he was superb in the back/outside and showed tremendous promise on the attack. A rising star in this country, cannot wait to see what kind of player this guy turns into, but this was an indication that he may be something special.
BAD: Graham Zusi
Another big disappointment. I have never been a big believer in Zusi, but I've seen him excel on set pieces many many times. He had a few moments of success (i.e. Corner kick to John Brooks), but he was often a non factor. One thing he has proved is that he is not a 90-minute player, at least not against this caliber of superstars he was up against. I also don't like his hair, too in between Bradley and Beckerman.
GOOD: Jermaine Jones
Biggest surprise of this USMNT in my opinion. You could argue that nobody outside of Tim Howard had more of an impact on this team consistently. His ridiculous goal against Portugal is only a small indication of how well he played. It seemed like he was involved in every play, just working hard and making tackles all over the field. Incredible guts from this guy who was getting beat up all day today. I expected little production from JJ and I was proven to be very very wrong. Probably the last time we'll see him play on the World Cup stage for Team USA, but his leadership on the field was evident, and I'm confident his game will rub off on younger teammates.
GOOD: DeAndre Yedlin
Speaking of younger teammates. This guy was absolutely incredible, today in particular. There was skepticism of whether or not he would even get on the field, and now he has 3 games under his belt at the highest level soccer has to offer. There's just so much natural speed, and he has no ceiling as to how far he can progress. Another young gun with massive massive potential, and hopefully a superstar in the making for the United States.
GOOD: Jurgen Klinsmann
A 1-2-1 record in this World Cup is not indicative of how this team has played under this man's supervision. Despite questionable roster moves (i.e. Landon) and iffy lineup changes, Jurgen was able to get these Yanks out of the Group of Death, which in itself is a great success. The expectations were low for this team as they often have been. But he has brought something new to this team. He has implemented changes that are sure to make a lasting effect on soccer in this country in nothing but good ways. He's got a fire in him that I don't remember ever seeing in a USMNT coach. We're not there yet, not by any means, but has began to pave the road for success.
It was obvious this whole team was hamstringed by Jozy's absence, pun definitely intended. We lost an offensive threat, and it was often reflected in wasted failed opportunities moving up the field. Dempsey was forced to play more offensive and was honestly a non-factor for most of the tournament, outside his goal 30 seconds in against Ghana. The broken nose certainly didn't help Deuce either. Kyle Beckerman played much better than I expected. Omar Gonzalez played awesome. And I hate Chris Wondolowski with every fiber in my being. That miss from point blank range with no time on the clock is just inexcusable.
Obviously this sucks. I speak for us all when I say I feel like I got the wind knocked outta me and my heart ripped out. But as someone who is always into soccer, it was really awesome to see everyone get so into the World Cup. And even if most of Americans are going to forget about soccer totally until Russia 2018, there are a few I am confident that have adopted soccer into their lives. It's easy to jump on board when good things are happening. The drama was enticing and the sense of contagious pride was truly compelling. The nation watched and cheered together. We were given a reason to come together and celebrate being American. That's immeasurable. You might not remember the guy who scored the game winner against Ghana, but you might remember going crazy at the bar with complete strangers spilling beer all over the place. You might not remember dominating the game against Portugal only to give it away at the last second, but you might remember getting out of the car at every red light on the way home to red card every car within sight. Or was that just me?